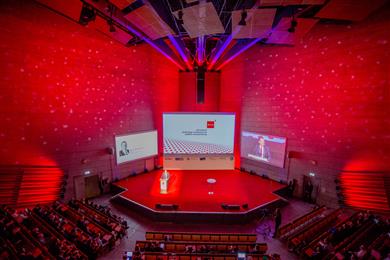 Momentum for Growth: The 4th AMTC focuses on the industrialisation of additive manufacturing for a new future
Additive manufacturing is changing the world. This disruptive next-generation technology is helping more advanced rockets into space, revolutionising design thinking for sustainable solutions and creating jobs for the future.
Over 60 speakers, including from Boeing, Siemens, McKinsey, Audi, RWTH and TUM, are confirmed for this year's leading global industry event, AMTC. They will share their views on the future of additive manufacturing.
The opportunities for industrialisation and growth of advanced additive manufacturing have never been greater. Major global issues such as climate change, population growth and rising consumer expectations for smart customised products are driving leading companies to seek better and optimised ways to manufacture and sell goods to markets.
Additive manufacturing is a technology that offers both solutions and additional opportunities to create a new generation of customised products that increase functionality and reduce resource consumption. High on the agenda at this year's industry-leading Advanced Manufacturing Technology Conference are the opportunities and challenges for industrialisation and the future of additive manufacturing. Senior leaders from industry, government and academia will engage in a lively exchange on this topic.
"Advanced additive manufacturing is about 21st century design and long-term thinking to solve complex industrial and environmental problems," says Prof. Dr. Michael Suess, Chairman of the Board of Directors of Oerlikon and founding partner of the AMTC. "We perceive an acceleration of the growth momentum. More and more industries are adopting additive manufacturing solutions."
In line with the conference motto "Momentum for Growth", the event takes a look into the future. It starts with a platform for 3D start-ups to present their ideas and network with industry leaders. On the second day, topics such as new material solutions, additive manufacturing in teaching, future standards, success factors for scaling and adapting hardware will be discussed. On the last day of the conference, workshops will be held on five key topics. In total, more than 60 speakers will talk about the latest developments in the additive manufacturing industry.
This year's conference in Aachen underlines the importance of intensive collaboration to pave the way for a new industrial revolution. RWTH Aachen University could be won as the second renowned partner in the university landscape and complements the existing partnership with the Technical University of Munich. "For additive manufacturing to be successful in the future, engineers, managers and scientists need to learn more about and understand additive manufacturing," says RWTH Professor Johannes Henrich Schleifenbaum. "At RWTH, additive manufacturing is already part of the curriculum and we are excited to see so many additive manufacturing research projects in the pipeline."
Speakers at the AMTC include:
Armin Laschet, Minister President of North Rhine-Westphalia.
Dr Melissa Orme, Vice President of Additive Manufacturing, The Boeing Company
Dr. Jochen Eickholt, Member of the Board, Siemens Energy AG
Frank Thelen, free spirit, founder/investor/author
Jürgen Tiedje, Head of Unit Prosperity, Directorate General Research and Innovation, European Commission
The AMTC will take place from 12 to 14 October 2021 at the Eurogress in Aachen.
www.amtc.community
comments