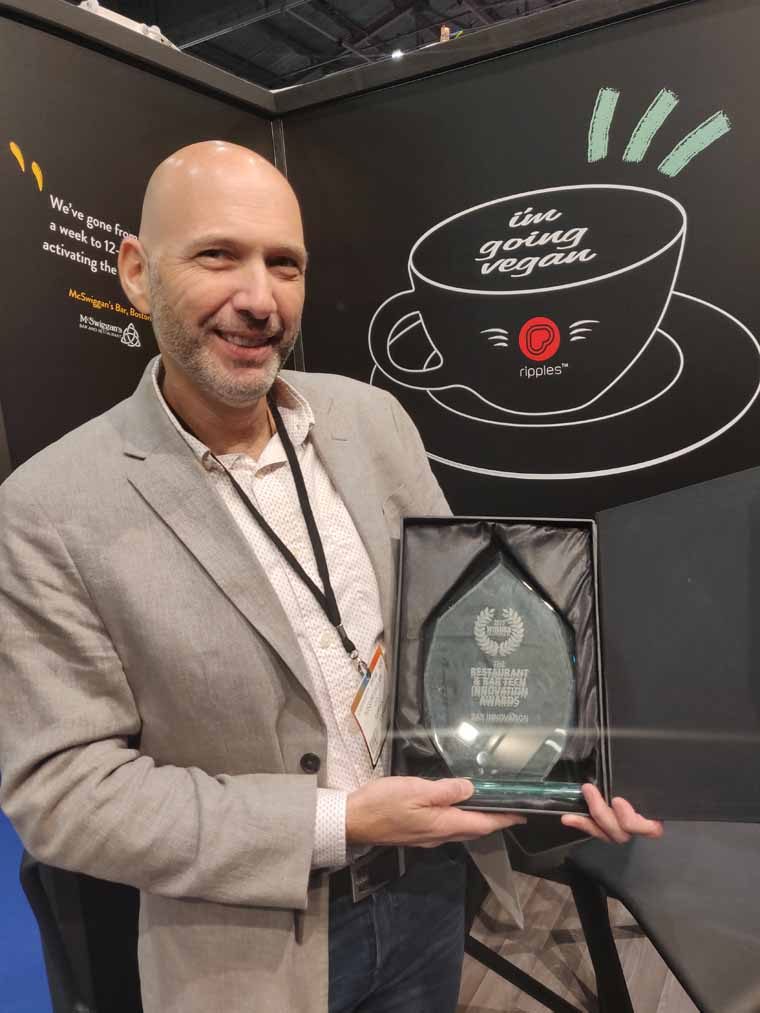 Award recognizes Ripples' success in boosting beverage sales and helping brands to increase social media interaction
Ripples announces further expansion to its Bev-Top Media platform with branded 'Drink Frames' that allow all businesses to increase and measure their online exposure
Ripples, the revolutionary Beverage-Top (Bev-Top) Media platform, has won an innovation award at this year's Restaurant & Bar Tech Live event, held in London, in November.
The Restaurant & Bar Tech Live Awards celebrate the "ground-breaking developments which are making waves at the very forefront of the restaurant and bar sectors". Ripples was named winner in the Bar Innovation category, capping a hugely successful year which saw the transformation of the Ripples platform into a completely new marketing medium for the beverage industry.
Yossi Meshulam, Ripples CEO and Co-founder, comments: "We are very excited to have been chosen from hundreds of contenders to win the coveted Bar Innovation award."
The Ripples platform centres on the Ripple Maker, a counter-top machine that prints messages, images and logos on top of any foam-topped beverage, including coffee, beer, cocktails and milkshakes, using 100% natural and vegan-friendly extracts. Wi-Fi enabled, each Ripple Maker hosts hundreds of messages and images, while also being able to upload images from consumers' phones via Wi-Fi – including selfies.
Ripples recently introduced a new set of big-data analytics to the Ripples platform, creating a new category for food and beverage marketers, called Beverage-Top (Bev-Top) Media. With this new analytics capability Ripples is now able to identify photos of printed drinks posted online and, using a proprietary algorithm, provide an advertising value equivalent – enabling businesses to prove the return on their investment in Ripples technology. Additionally, by aggregating data from the thousands of Ripple Makers installed worldwide, Ripples can now provide businesses with content-based recommendations that are proven to increase sales at the point of consumption.
New Branding Opportunities with Custom Frames
Not content to rest there, Ripples is announcing the launch of a further upgrade, which will enable all Ripples customers to tap into the opportunities offered by Bev-Top Media.
Yossi Meshulam comments: "Our journey is continuing in very exciting directions, with custom Drink Frames that ensure all user-generated content with Ripples on social media delivers prominent visual exposure for brands."
Drink Frames enable venues to print their name, logo, hashtag or an illustration onto any foam-topped beverage alongside the customer's choice of image. This ensures maximum exposure for the outlet every time an image of a printed drink is shared online.
Yossi Meshulam adds: "Drink Frames are a highly visible way for brands to translate their offline Ripples printed drink experience to online digital media. The ultimate result is also an increase in drink sales, as this type of engagement closes the loop from online to offline and back again."
One of the best examples for such frame activity can be seen at the Guinness Storehouse in Dublin, where Guinness launched the "STOUTie" – a picture-perfect pint featuring a selfie of the drinker, the #stoutie hashtag and the Guinness logo on the head of every pint of the iconic black and white stout, significantly increasing its virality.
#stoutie now has over 2,300 user generated social media posts, all of which include the hashtag and the Guinness Storehouse branding. Some of these made it onto Reddit and became 'super viral' with 40,000 upvotes and over 9,000 comments.
www.ripples.com
comments