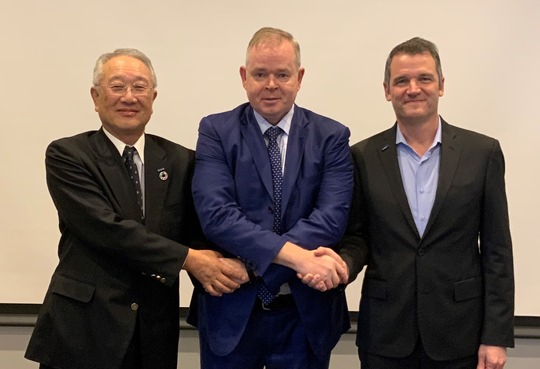 Milton Guerry elected vice president
The International Federation of Robotics has elected Steven Wyatt (ABB, Switzerland) as its new president. Wyatt succeeds Junji Tsuda (Yaskawa Electric Corporation), who has held the rotating position since December 2017. Milton Guerry (SCHUNK, USA) takes over from Wyatt as IFR Vice President.
The new IFR President Steven Wyatt has more than a decade of international experience in the rapidly changing automation industry. He is currently Global Head of Portfolio and Digital for ABB's Robotics & Discrete Automation business. Prior to joining ABB in 2010, the Scottish-born entrepreneur held a number of senior marketing and sales positions in the plastics industry worldwide. Wyatt holds a degree in chemical engineering from the University of Edinburgh. Prior to his election as the new president of the IFR, he supported his predecessor Junji Tsuda as vice president, a role he held for two years.
Steven Wyatt thanked outgoing IFR President Junji Tsuda for sharing his outstanding industry knowledge with key international stakeholders and the world press. "As the voice of the robotics industry, Junji Tsuda has been exemplary in communicating the positions of our members on key industry issues. As the new president, I look forward to continuing his successful work. Together with the new Vice President, Milton Guerry, I will continue to work on Junji Tsuda's mission to create a clear awareness and understanding of the rapidly changing world of flexible automation.
The new IFR Vice President, Milton Guerry, began his career in the automotive industry, where he worked in various engineering and technical roles. Today, as President, he leads the team at SCHUNK USA. Guerry is a member of the Board of Directors of the Robotic Industries Association (RIA). He joined SCHUNK in 2000 and held various management positions before he assumed his current position as President in 2007.
www.ifr.org
comments