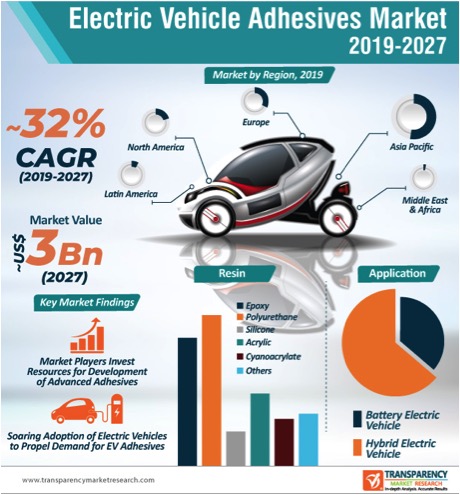 The global electric vehicle adhesives market was valued at US$ 261.3 Mn in 2018 and is anticipated to expand at a CAGR of ~32% during the forecast period. Asia Pacific has become the hub of the automotive industry over the last few years. Increase in demand for electric vehicles in emerging countries such as China and India is driving the automobile industry in the region. This is boosting the demand for electric vehicle adhesives. Strong government support and ad-hoc tax incentives have led to robust double-digit sales growth in automotive and electric vehicle industries in China. Rise in demand for small and battery-based efficient passenger vehicles in countries such as Thailand, Malaysia, and Indonesia is also anticipated to propel the automobile sector. This, in turn, is projected to augment the electric vehicle adhesives market.
Key Drivers of Electric Vehicle Adhesives Market
Rise in production of electric vehicles can be ascribed to the increase in number of regulation on emission of carbon dioxide in the wake of growing global warming. This has led to an increase in global production of electric vehicles. For instance, in 2016, Norway proposed a ban on cars using fossil fuel and prohibition on the sale of all petrol and diesel vehicles by 2025. The country also launched a new tax system called 'polluter pays' in order to prevent the sale of new petrol or diesel cars.
Increase in the number of regulations and rise in initiatives to boost the sale of electric vehicles are anticipated to propel the demand for electric vehicle adhesives in the near future. In June 2017, the Clean Energy Ministerial, a global forum, launched the EV30@30 campaign at its 8th annual CEM meeting to accelerate the deployment of electric vehicles across the globe. The campaign aims to increase the sale of electric vehicles by 30%, by 2030. Rise in governmental pressure has led to an increase in shift toward electric vehicles. According to the International Energy Agency, the sale of electric buses across the globe stood at about 100,000, while that of two-wheelers was approximately 30 million in 2017; China accounted for major share for both these modes of transport in the year.
According to the European Association of Motorcycle Manufacturers (ACEM), the registration of electric mopeds, motorcycles, and quadricycles reached 14,251 units in the first three months of 2019 in Europe, an increase of 71.2% compared to that in the first three months of 2018. These factors are expected to drive the demand for electric vehicle adhesives in the near future. Electric vehicle adhesives are used to join components and shielding them from shocks and vibrations. Thus, electric vehicle adhesives are ideal materials for body construction, paint, and vehicle assembly of hybrid and battery electric vehicles. Electric vehicle adhesives also help lower the weight of the overall body of the electric vehicle in order to enhance the bonding of non-traditional or dissimilar materials such as lightweight composite tailgates for SUVs.
Liquid Form to Offer Attractive Opportunities
In terms of form, liquid was a highly attractive segment of the global electric vehicle adhesives market in 2018. The segment is anticipated to maintain its attractiveness during the forecast period. Increase in demand for epoxy liquid adhesives in fabrication of exterior and interior of vehicles and electric batteries is a key factor that is driving the liquid form segment of the electric vehicle adhesives market. Liquid acrylic adhesives contain hydroxyl and amine groups. These are based on natural polymers, including dextrin, starch, and resin. They may be made from emulsions or dispersions of polyvinyl acetate, polyacrylates, ethylene vinyl acetates (EVAs), or natural rubber. Liquid adhesives are primarily used for their rapid curing ability. They are used extensively in various industrial bonding applications due to their ability to bond a wide range of substrates and enduring ability at high temperature. The tapes & films segment is estimated to expand at a faster pace than other segments of the electric vehicles adhesives market, owing to the formers' ease of application in body parts of electric vehicles.
Asia Pacific Dominates Electric Vehicle Adhesives Market
In terms of region, Asia Pacific accounted for a prominent share of the global electric vehicle adhesives market in 2018, owing to rapid industrialization and rise in demand for electric vehicle adhesives in the automotive industry. Electric vehicle adhesives are widely employed in the automotive industry to lower weight and improve the overall efficiency of vehicles by optimizing the usage of mechanical fasteners such as nuts and bolts. Leading players operating in the electric vehicle adhesives market in Asia Pacific have adopted strategies such as mergers & acquisitions and expansion of plant capacity to increase their market share. In 2013, Henkel AG & Company KGaA established the world's largest industrial adhesive plant in Shanghai, China, with production capacity of 428 Kt/a.
Top Six Players Account for Major Share of Electric Vehicle Adhesives Market
The global electrical vehicle adhesives market is highly fragmented, with the presence of large numbers of small players. Currently, the global electrical vehicle adhesives market is expanding at a steady pace. Key players are largely focusing on research and development activities. The top six players -3M, Henkel AG & Company KGaA, H.B. Fuller, DuPont de Nemours, Sika AG, and PPG Industries, Inc. - cumulatively accounted for more than 40% share of the global market in 2018. 3M constituted the leading share of the global electric vehicle adhesives market in 2018. The company offers more than 100 types of adhesive products. Its offices and manufacturing sites are located in almost every major city across the globe. 3M is focusing on expanding its product portfolio in order to maintain its leading position in the market.
https://www.transparencymarketresearch.com