Emirates Décor, of Dubai, UAE, uses a variety of skills and technologies to fulfil turn-key projects for high-end, innovative interior and exterior design concepts for a wide range of customers. Established in 1990, the company works closely with customers to create the look they want for homes, offices, showrooms, restaurants, boats and other spaces, offering the best in luxury and quality. Emirates Décor attends to every detail from colour schemes, ceilings, lighting, furniture and more.
While not printers per se, Emirates Décor has used screen printing and other techniques to produce effects on flexible and rigid materials in the course of making its customers' dreams become realities.
"Screen printing is a time-consuming and sometimes costly process, and doing some things, like preparing a proof for customers, can be a big problem," says Ibrahim Hammoud, executive manager CNC Division, Emirates Décor. "Printing digitally with the HP Scitex FB910 Printer, you can have a proof in, say, half an hour. With screen printing, you have to prepare the screens colour by colour. While screen is good for high volume industrial production, here at Emirates Décor we are dealing with limited quantities, down to one, where screen is not cost-effective."
The HP Scitex FB910 Printer is a 4-colour piezoelectric inkjet solution using UV curable pigmented inks that uses a belt-driven architecture with the ability to output on to rigid substrates up to 2.5m x 3.8m (8.2 x 12.4ft) and 7cm (2.75 inches) thick, and on flexible substrates up to 2.5m (8.2ft) wide.
"The quality is equivalent to printing with an 80/90 mesh screen. And we have the option to print in three quality modes from top quality to billboard mode. The production quality is so good that unless you know what to look for, it's hard to see the difference," Ibrahim Hammoud says. The HP Scitex FB910 Printer is suitable for many rigid materials including wood, ceramics, glass and a large variety of tiles. With high print speeds, the printer can increase throughput and cut production times.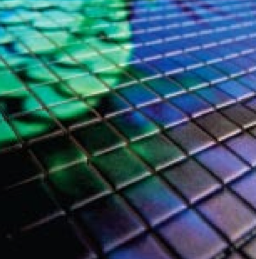 "There were three reasons for choosing the HP Scitex FB910 Printer. We were looking for a machine that was flexible, that printed rolls as well as rigid sheets. The machine can be easily converted from flexible to rigid substrate production, and doesn't take up too much space. The second reason was because it was an affordable investment for us, especially since printing isn't our core business. Thirdly, we liked it because it is a UV printer. Its prints are durable for both indoor and outdoor applications.
"Our work can be quite artistic, and we think of this machine as an 'automated painter'," Ibrahim Hammoud continues. "We print on a kitchen roll, tissue paper, napkins, bedcovers, curtains, and sheets and we can imitate surfaces like marble, wood and leather. Everyone who has seen the foam board printed with the marble effect thinks it's real stone – even from just one metre distance! We've printed glass tabletops and stainless steel lift doors. We've also produced a light fixture from transparent Acrylic which was UV printed and then engraved for a very special effect."
Taking the plunge deeper into digital printing
A recent project demonstrates how Emirates Décor has been able to use not only its HP Scitex FB910 Printer, but other HP solutions to execute a challenging commission. Using HP A3 (B-size) scanners, A3 (B-size) laser printers, and HP Designjet Z3100 Photo and HP Designjet Z6100 large format printers, the whole project was carried out with HP technology from concept to execution – designs, plans, visuals, proofs and final printing, ensuring easy colour management and consistent colour throughout the workflow.
"We recently printed tiles for a swimming pool, for a customer in Zanzibar. The pool is about 37m (121ft) long by 18m (59ft) wide and the bottom is decorated with marine images: mermaids, fish and shells. Our job was to print the images on the hundreds of ceramic tiles that make up the scenes and to ensure that they endure in the outdoor environment with the sun, water and chlorine. We even developed our own coating – which we tested in a laboratory – to ensure the longevity of the images under anticipated conditions.
"In the past, we did such work for spas, pools and Jacuzzis using the traditional method, applying ceramic glazes and kiln firing, but it was very expensive and time consuming. We used the HP Scitex FB910 Printer for proofing and final production. It was well-suited to this job because the UV inks are ultraviolet resistant, but we also developed a protective coating – and sent it to laboratories for testing – to add to the durability of the surface. Throughout our work with the HP Scitex FB910 Printer, we've received an exceptionally high level of support from Jacky's Electronics, which maintains the machine."

For the swimming pool scenes, the belt-drive feature of the HP Scitex FB910 Printer enabled images to be printed on multiple tile sections simultaneously while additional substrates are loaded for feeding. This increased throughput and ensured a highly efficient workflow and high productivity.
"We are proud of this project; it was a challenge, but with our new printer, we are now much faster, more productive and it's less expensive. We're getting people who have seen or heard about it asking about having the same thing done."
With its creative team and smooth production workflow, Emirates Décor is able to offer new levels of customised designs and unique products, increasing its competitiveness, while pushing the HP FB910 Printer "to the limit" and offering high quality applications and prompt delivery.
comments