Just some weeks before Fespa ,the Dutch manufacturer introduced the ColorBooster DS to an exclusive group of printers and journalists. Sabine A. Slaughter went to Eindhoven to investigate.
Located in the outskirts of the Dutch city of Eindhoven, the company, that started out as a developer of solutions for textile printing and later on became a printer manufacturer, has their showrooms as well as their R&D center and headquarters.
The company's founder, Peter Hollanders, CTO of Hollanders Printing Systems, is proud to be able to present a manifold, yet high technology range of affordable textile printing presses – each of them having been devised and developed at his company. There are machines for flags and banners, dedicated solutions for carpet printing and other specialized applications that all correspond to Hollanders' approach: When working with textile and when the highest quality is to be combined with lowest cost of production, there is only one way to control the entire process. It's to understand every little detail of the entire production flow. And this is very different from using an existing printer and convert it into something that might be able to print on textile.
The new ColorBooster DS, the first double-sided textile printer, is the highlight of the day. The machine prints on both sides of a fabric simultaneously whereby highest registration is ensured. This is made possible via Hollanders' own registration and transport system that first of prints on one side, then the fabric is printed from the other side too. It incorporates a very sophisticated integrated fixation unit consisting of infrared based ceramic heating elements which ensures that there is a constant temperature across the entire media surface thus enabling proper sublimation and fixation of colours to the textile without deformation and at the highest possible UV-resistance, colour brilliance and durability.
Depending upon the project different images can be printed on each side or the same image from both sides whereby brilliant, rich designs and graphics can be realized. The machines are manufactured to order which means that there is a choice of colour channels available apart from CMYK. The company recommends to use its own water based inks that are also available in violet, red, gray and other spot colours. Hollanders uses a spot colour list based on the actually ink thus ensuring accurate vector colour reproduction. It comes in two widths – 2.1 m and 3.2 m.
"One of the most demanding tasks has been getting the registration right", states Peter Hollanders. The ColorBooster DS incorporates step correction, air or electrostatic suction, traction control, temperature and humidity control among others. "Our extensive research into inkjet technologies, how drops are ejected by different print heads and control thereof enabled us to built this innovative and highly sophisticated new textile printer."
Incorporating Seiko print heads, the ColorBooster DS enables 24/7 printing whereby speeds between 45-70 sqm/h at production quality and with 720 x 720 dpi can be achieved. "The speed always varies according to the design and the amount of ink that has to be laid on the fabric as well as the number of passes required. A full rich red or black image on both sides requires different ink amounts and passes than a multicolour design. In addition, structure of the fabric, its ink absorption and many other factors play an important role in determining speed, thickness of ink layers as well as passes. Obviously the machine can also print faster, but the image quality will suffer as rich vibrant images require a certain amount of ink. Our ColorBooster XL for example, that also incorporates Seiko heads requires an ink layer from 5 till about 20 ml/sqm on different substrates to achieve accurate image reproduction resulting in a square meter ink price between €0.32 and €1.28. When producing 100.000 sqm per year and calculating all cost: depreciation, maintenance, supplies, heads, operator cost, electricity, ink, etc. the costprice shall be around 3 euro/sqm", explains Peter Hollanders. "To print a rich and brilliant image requires more often than not extensive knowledge. That's why we also developed our own software to drive our printers thus many of the factors are taken into account resulting in well-received and high quality output."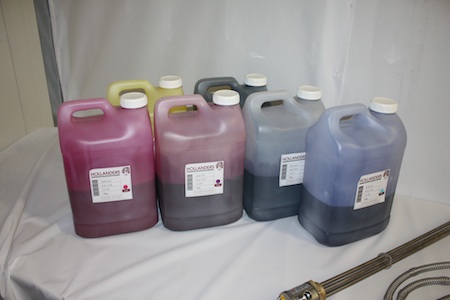 Hollanders' inks not only come in several colours apart from CMYK, they are also water based, meaning that they are soft on the environment and non-toxic. The inks show a wide colour gamut and are highly UV resistant. All that is required after printing on the ColorBooster DS is a wash of the fabrics. As no transfer paper is required, excessive waste that usually is associated with dye-sublimation processes is also avoided.
For finishing the Hollanders ColorWash, a roll-to-roll machine enabling washing, drying and ironing without operator interference can be used. It incorporates an onboard control system for water temperature, washing speed, water consumption, soap concentration, media tension, drying and ironing whereby different modules can be assembled and ordered.
In addition, Hollanders drives the press via its own workflow and color control software that enables a high degree of repeatability of print jobs. The machine's media quick sets plus take up and feed settings enable fast set ups of jobs.
The ColorBooster DS is specifically designed for printing on spun polyester flags, but can also accommodate decostyle banners, front-lit interior backdrops, backlit retail frames, block-out prints and many more visual communication products on textile. Among the media there are woven and knitted media, open and closed structures, polyester, voile, fence, mesh and many more with or without coating. It allows for rolls with a diameter of up to 60 cm and enables unattended printing, so overnight jobs are no more a headache.
And there is more: At the same time the company introduced the ColorBooster 250 that is expected to come to market later this year. It incorporates the renowned Hollanders media tension and traction control and can be driven with either water based dye-sublimation or disperse inks whereby Ricoh Gen5 print heads are used. The ColorBooster 250 can print directly on textiles but also accommodate transfer paper printing processes. Three different models – a starter version with 4 colour channels, production edition with 6 colour channels and an ultimate edition with 8 colour channels are available. Print width is 2.5 m. The new entry level ColorBooster 250 is expected to be available for around 98,000 euros in the starter version up to 150,000 euros for the ultimate edition.
One of the main principles of the company is that the ROI method is based on true figures. "At the end of the year, our customers must be able to confirm that our economic model is right: lowest cost per square meter at the highest possible quality. And that with the best color reproduction on the widest range of fabrics", states Peter Hollanders.
comments