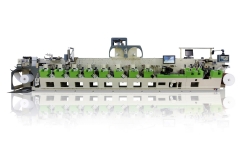 Nuova GIDUE (booth 5721/5722) will introduce the new "Digital Flexo Excellence™" concept settled with the new REVO technology. This latest innovation is a system of technologies developed to "digitize" and "automate" the work flow, set-up and run of a UV flexographic press.
REVO is a project team which collects eight industry leaders cooperating to drive flexography towards the new "digital" world of printing and converting. Process consistency, efficiency and cost reduction are the objectives of REVO digital flexo revolution, to win the labels and packaging challenge for short runs, global quality and total flexibility.
Extensive digital automation in the printing press is needed to collect all the opportunities of the new REVO "digital" flexo process. On the GIDUE printing and converting sections, servo motors and digital HD cameras substitute the eyes and the fingers of the operator with digital eyes and digital fingers. The new EXCELLENCE generation presses exchange the print and die-cutting cylinders from "old" to "new" job fully automatically, without an operator. Set up and production operations are digitally controlled, with very limited intervention from the operator, which becomes a production manager and a quality tutor on the press, as most of the operations are automated and digitally controlled. digital automation in flexo presses completes the REVO "digital chain" from pre-press, to plates, to inks, to anilox and finally to printing and converting, to achieve a full REVO digitalization of the flexo process".
The wide 430mm M5 GIDUE UV Flexo press on demonstration will show all aspects of the Excellence™ technology: ExcelPrint™, ExcelDie™ and ExcelCut™ for the automatic "non-stop" exchange of print cylinders, magnetic and flexible dies. Waste and set-up time are significantly lower than those performed on digital presses, as all the printing and converting operations are digitally performed "all-in-one-pass" keeping all the variables under control.
www.labelexpo.com
comments