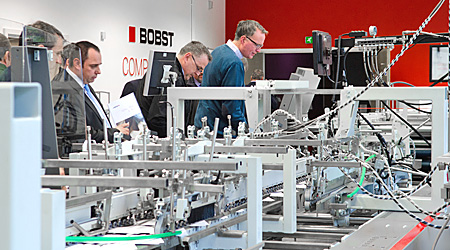 Last week BOBST held an open house that showed box makers a number of approaches they can use to raise the productivity of their equipment, comply with legislation and reduce their business risks. Under the banner "Partners in Productivity", the event included both presentations and on-machine tutorials which covered new production ideas such as platen conditioning, analysis tools such as benchmarking, systems such as on-line fault analysis and the benefits of using food grade machine oils. Held at the BOBST Competence Centre in Redditch, which is also the company's customer services centre for the UK, Ireland & Scandinavia, the event was presented entirely by services staff and product specialists.
Alan Letford, BOBST National Service Manager, said, "Visitors came to see the latest ideas from us that can help them improve their productivity. One subject creating a lot of interest was the live demonstration of platen conditioning. Even with regular maintenance, the beams, chases and platens on die-cutters can oxidise because of the moisture content in board. As a consequence, machine operators have to spend more and more of their time on makeready and also have to use extra cutting force, which reduces die life. Platen conditioning removes this oxidation and protects the machine against corrosion. It can reduce makeready times between 25% and 50% and the cutting force needed to run a job by up to 30%."
Mike Rice, Regional Services Manager for BOBST, outlined the legislation driving the increased need to use food-grade oils in packaging production machinery, along with ways to implement their use and ensure lubricant longevity. BOBST now offers a range of NSF International lubricants certified for use where incidental food contact may occur.
On-machine sessions included zonal patching techniques, benchmarking and SMED. Zonal patching was shown using the Competence Centre's NOVACUT 106 die-cutter, but is applicable to any die-cutter, speeding up makereadies and reducing the use of patching tape. Benchmarking and SMED are techniques that BOBST specialists can apply to any machine in a plant to assess and analyse where productivity improvements can be made, after which they can advise on how to achieve them. The methodology and practical application of these techniques was shown using the Competence Centre's EXPERTFOLD 110 folder-gluer, but can be applied to any production equipment from flexo presses and FFG's to die-cutters and hot foil stampers.
Visitors to BOBST's Partners in Productivity open house watch a demonstration of techniques used in benchmarking.
The event also included a presentation of the BOBST e-suite of online services, including Helpline Plus, Downtime Tracking and Remote Monitoring. Using a secure Internet connection, Helpline Plus allows BOBST engineers to identify the cause and potential solutions of problems such as breakdowns or poor performance. Downtime Tracking and Remote Monitoring provides users with tools to analyse the cause of unproductive time and see real time production information on their laptop, tablet or Smartphone.
Finally, visitors were able to discover BOBST Mobile Spare Parts – including the branded vehicle that travels the country with the most commonly required spares. This vehicle also restocks the Consumables Cabinets located at many BOBST customer sites, which allow users to pay for consumables only as they use them.
www.bobst.com
comments