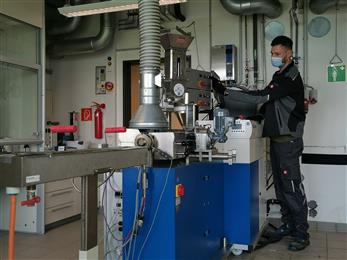 University Bayreuth acquires extruder from INEOS Styrolution to support further research projects
New extruder elevates the University of Bayreuth to a new level in plastics compounding
INEOS Styrolution, the global leader in styrenics, and the University of Bayreuth continue their long-established R&D collaboration preparing for future projects. A new twin screw extruder will allow the university to perform plastics compounding at a new level.
INEOS Styrolution looks back at almost eight years of collaborating with the University of Bayreuth on various R&D projects to unleash the full power of styrenics materials. Initial projects were focused on optimising materials for selected industries and applications. More recently, the focus has shifted to projects addressing sustainable solutions. The research includes various aspects of depolymerisation of polystyrene to convert post-consumer styrenics waste to monomer feedstock.
Dr. Norbert Niessner, Global Innovation Director at INEOS Styrolution comments: "Bayreuth is known in our industry as an internationally renowned location with highly developed skills to progress polymer innovation. With this win-win deal we help to further improve Bayreuth´s development position in polymer compounding. We are happy to contribute strengthening our partner."
Prof. Dr.-Ing. Holger Ruckdäschel from the Department of Polymer Engineering at the University of Bayreuth adds: "We are excited about the capabilities the new twin screw extruder offers. We are looking forward to new projects, with INEOS Styrolution being one of our major partners."
The twin screw extrusion process is based on two intermeshing, co-rotating screws mixing raw materials (such as granules or powders) at defined processing conditions. The device is useful for wide-ranging polymer processes. The extruder perfectly bridges the gap between lab and pilot-scale with its throughput range from 0.5 – 20 kg/h. Minimum material is needed for taking first steps in processing, and also larger quantities of material can be manufactured at reproducible conditions. Moreover, side-feeding equipment allows to add thermally sensitive materials, fillers or reinforcing fibers. The new machine ideally enables the University of Bayreuth to develop new polymeric materials.
comments