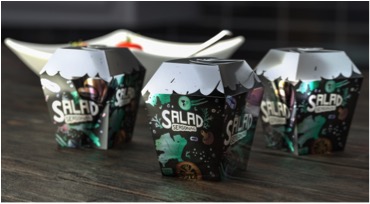 The new portfolio for offset and flexo printing contains 16 versatile metallic inks
The new gold and silver metallic inks of the Dual Cure Ink series from ECKART are suitable for all curing processes used by printers in offset or flexo printing. All the new metallic PANTONE® shades can be used in both UV and energy-saving LED curing processes.
With this innovative range, ECKART is supporting the growing global trend towards sustainable printing inks.
All 16 UV/LED products feature improved hazardous substance labelling: Without GHS08 hazardous substance symbol. This is becoming increasingly important to users who focus on the protection of their employees.
The new Dual Cure Ink portfolio uses ECKART's variety of pigment types (Silverdollar, Cornflake, VMP) to produce a wide range of metallic colours. Depending on the pigment properties, it offers light, fine glossy shades, highly brilliant, strong glossy as well as dark silver shades. The colours are suitable for label and packaging printing and can be applied to a wide variety of substrates: Paper, cardboard, metal, foils, packaging materials, but are also suitable for in-mould applications.
The six METALSTAR UV/LED FPG metallic shades for offset printing are low-migration. This makes them suitable for indirect food contact and typical offset applications such as cans, beverage cartons or chocolate packaging.
Of the ten inks for flexo printing, the four ROTOSTAR UV/LED FPG inks are also suitable for indirect food contact. The four inks of the ROTOSTAR UV/LED 366 series offer very good brilliance and excellent printability. The two ULTRASTAR UV/LED inks, on the other hand, are based on VMP pigments and are specially designed as alternatives to metallisation and foil stamping.
comments