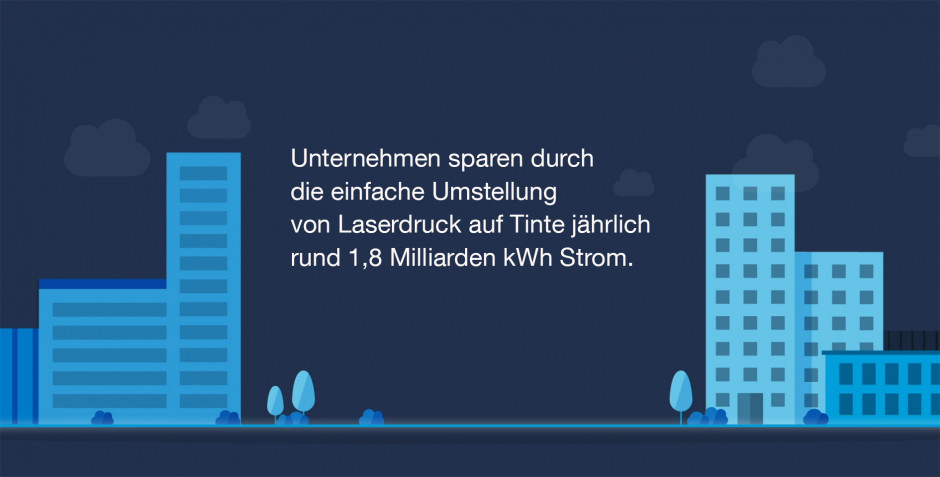 Companies in Europe save electricity and CO2 with Epson business inkjet technology and thus more easily meet their environmental goals
Switching to inkjet printing saves around 213 million euros annually
Companies in Europe are releasing considerable resources by switching to Epson business inkjet printers.
By switching from outdated, power-hungry laser printing technology to modern inkjet printing, companies are freeing up valuable resources. With Epson business inkjet technology, companies in Europe reduce their electricity consumption by around 1.8 billion kWh per year, costs by €213 million and CO2 emissions by 409 million kg. In addition, thanks to the reliable, clean ink technology, they avoid considerable amounts of printing waste1.
Improving the carbon footprint of businesses is a challenging task that is addressed by a variety of methods. One particularly simple and efficient way is to switch printing technology from laser printing to economical inkjet printing. Companies are increasingly taking advantage of the benefits of ink. For example, the market share of Epson business inkjet printers has risen steadily in recent years, and according to IDC data, the company currently holds a total market share of 39 percent2 (value) in Western Europe.
If this development continues, a considerable amount of greenhouse gas would be saved, because the complete conversion to Epson business inkjets would reduce CO2 emissions as if some 20,000 delivery vans were disappearing from our roads3. In addition, the electricity saved would free up a budget of €213 million annually. These are convincing arguments for all companies to change their printing technology.
Phil Sargeant of market research firm IDC explains: "In recent years, we have seen business inkjet printers increasingly assert themselves against lasers. Epson and HP models have been particularly successful, and to a lesser extent Canon and Brother. The market share of ink technology is growing by almost two percent annually. Inkjet printers have now reached a broad group of buyers and today about every third office printer sold is based on this technology. In some European countries, the share is as high as 40 percent.
In a recent survey, Epson asked IT managers about investments in new technologies. In this survey, 58 percent consider cost reduction and 51 percent the hiring of new employees to be the most important corporate issues of the last two years4.
Jörn von Ahlen, Head of Marketing at Epson Deutschland GmbH, explains: "Thanks to continuous development of Epson inkjet printing technology, a switch from laser to ink brings noticeable cost savings for companies. In addition, the CO2 footprint can be significantly reduced. A small change in this segment of IT equipment can therefore have a great deal of ecological and economic impact. This is only possible with the advantages offered by our 'cold' PrecisionCore printing technology.
www.epson.com
comments