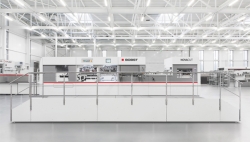 BOBST (stand G7) will premiere the NOVACUT 106 ER - its brand new die-cutter for in-line die-cutting with blank separation - at Gulf Print & Pack 2015, as well as showcasing a folder-gluer line with Braille embossing capable of producing up to 115,000 boxes per hour.
By bringing together superb BOBST die-cutting technology, the Angle Lock® blanking tool system and the extensive BOBST process support network, the new NOVACUT 106 ER gives packaging makers access to integrated and automated production that also improves the productivity of downstream processes such as folding and gluing.
NOVACUT 106ER is a value-for-money solution which offers in-line blank separation without the production or investment headaches that users expect from this process, delivering perfectly stacked bundles of blanks ready for downstream processing with no need for breaking out by hand. The BOBST Angle Lock® blanking tool system means that users can blank jobs which previously would not have been cost effective - and regardless of where they operate in the world, because Angle Lock® blanking tools can either be supplied directly by BOBST or made in-plant using standard components.
The NOVACUT 106ER is designed for in-plant flexibility, allowing users to build up a portfolio of blank separating work while they still run un-blanked jobs that are simply die-cut and stripped. This flexibility comes courtesy of the NOVACUT's delivery section, which can be converted from single/double cut blank separating to full sheet delivery, and back, in a matter of seconds.
To help users get over any apprehension about the in-line separation process, BOBST delivers unmatched customer support from its worldwide network of service support centers. Each center offers: pre- and post-sales advice from process specialists; training; technical support; remote diagnostics; access to field service technicians; and spare parts/consumables supply.
Show visitors will also discover the BOBST EXPERTFOLD line featuring the latest generation ACCUBRAILLE GT Braille embossing unit and a CARTONPACK GT automatic packer. This configuration, which is particularly suited to pharmaceutical packaging manufacture, can produce folded, glued and Braille embossed boxes at speeds of up to 115,000 per hour. ACCUBRAILLE GT not only ensures the consistency of Braille embossed dots throughout the run, but also means lower tooling costs - because one AccuBraille tool replaces several die-cutter embossing dies. A further benefit is that, with no need to carry out the time-consuming make-ready of such embossing dies, changeover times on the upstream die-cutter are reduced, improving plant efficiency overall.
www.bobst.com
comments