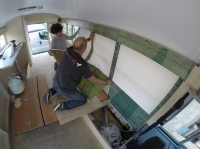 FESPA transforms American school bus to promote the possibilities of print
To continue its engagement with potential buyers of print, FESPA is launching Print Inspiration Rally, an initiative to connect interior designers, architects and creative professionals with innovative examples of wide format print to inspire them to see print as a creative and effective solution to many briefs.
Print Inspiration Rally will take the form of an American school bus, with artwork designed by decorated by Spanish interior design agency Egue y Seta using wide format print examples to demonstrate the surprising and exciting effects achievable with print. Applications shown will include printing on glass, wood and metal, textile, soft furnishings, ceramics and many more. A host of manufacturers have contributed to the project including: EFI, Epson, Roland, Agfa and CMA imaging, as well as printers such as ARC.
Print Inspiration Rally's first stop will be ESMA's Printed Interior Decoration event, from 26-27 November 2014 in Düsseldorf, Germany. Here, Sean Holt, FESPA General Secretary, will host a presentation to launch the initiative, setting out the rationale behind it and how interior decoration is a growth area for printers. Visitors to the event will be able to join FESPA on board for a tour of the bus to explore the different printed applications.
After Printed Interior Decoration, FESPA's Print Inspiration Rally will continue to tour various interior and creative events before culminating in Cologne, Germany for FESPA 2015, 18-22 May 2015.
Duncan MacOwan, Head of Events and New Media, FESPA, who spearheaded the project, comments: "Print Inspiration Rally is a fantastic visual illustration of print used to decorate materials and surfaces in ways designers and their clients may not have previously considered to transform any environment. As an exhibition organiser we know that the best way to see innovative opportunities and applications is up front and personal. Seeing is believing!
"We deepened our relationship with specifiers of print at FESPA 2013 in London with Creative Corner and we aim to continue this engagement with Print Inspiration Rally by taking outstanding examples of print directly to designers. Incorporating print projects sourced from our global print community also provides PSPs with an opportunity to capture the attention of potential buyers and illustrate their best work."
Print Inspiration Rally is made possible by FESPA's Profit for Purpose programme, which reinvests profits from FESPA events to support its global print community by nurturing demand for print and educating specifiers to print's creative possibilities.
www.fespa.com
comments