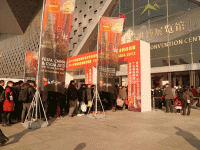 This year's FESPA Digital 2014 in Munich, Germany, attracted over 100 Chinese printers, double the number that attended FESPA Digital 2011 in Hamburg.
The increased attendance from China suggests that the direct presence of FESPA in China since 2013 is driving interest in FESPA among leading Chinese specialist printers.
Nigel Steffens, FESPA Board Advisor, comments: "The rise in the number of Chinese printers since 2011 (Hamburg) demonstrates the demand among leading printers in China for expert insights into developments in digital technology. The fact that so many senior decision makers from China will travel to Europe for our Digital event speaks volumes for the interest in digital printing in China and in meeting major international suppliers.
"Attending the European Digital event also provides printers with the opportunity to meet with leading industry players, as well as to attend educational seminars and demonstrations where they can hear first-hand from global experts about the latest applications and technology."
In recent years FESPA has expanded its event portfolio by introducing regional events in Mexico, Brazil, Turkey, Africa and China. The growth of the FESPA brand in these new territories has attracted new 'fans' who subsequently make the trip to exhibitions outside of their home country. Similarly to the Chinese printers who travelled the 4,536 miles from China to Munich, visitor numbers from locations of other regional FESPA shows, for example Turkey, also grew noticeably.
This year's FESPA China 2014, taking place from 19-21 November 2014, has moved to Guangzhou, consistent with the pattern of the previous CSGIA event. The inaugural FESPA China 2013 drew a significant visitor audience from Eastern China, especially from Zhejiang, Jiangsu and Guangdong. With the move to Guangzhou, China's largest Southern city, FESPA China 2014 expects a larger number of visitors from the region.
Nigel concludes: "When FESPA joined forces with CSGIA to deliver FESPA China, our objectives were to make the exhibitor base more internationally diverse and to bring more digital technology to the show. Judging by the interest in Munich, the strategy seems to be right for the market now. We're looking forward to engaging with new and existing visitors at FESPA China."
www.fespa.com
comments