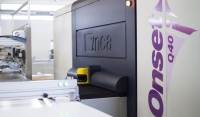 Fujifilm today announces that Quad/Graphics, one of Europe's leading print companies with global links, is the first to install the Inca Onset Q40i which was launched at FESPA last year.
Quad/Graphics is a commercial printer which is forever broadening its reach into new markets in order to better serve its customers. With offices all over the world, it has already installed an Inca Onset Q40i in the USA to complement their Onset S70 and S50i platforms.
As corporate marketing manager for Europe Agnieszka Golebiowska explains, Quad/Graphics is looking to provide the same quality and consistency by making similar investments in Europe.
"We pride ourselves on offering customers a wide breadth of material to suit their every requirement, and with the success the company has been enjoying in the USA off the back of the investments in the Onset devices, we wanted to continue that in Europe." She continues, "The Onset Q40i was the perfect choice because of its exceptional print quality as well as being such a high speed printing device."
The Inca Onset Q40i was launched last year to address the growing market for an ultra-high-quality flatbed device. It is aimed particularly at critical print applications such as backlit cosmetics displays, fashion and other closely-viewed graphics.
Andrzej Platek, managing director of commercial print and packaging at Quad/Graphics Europe, adds: "We know already that the Inca large format flatbed printers and Fujifilm ink is the best combination on the market from the extensive research that went into our USA investments. We wanted to replicate that combination in Europe so that we can offer the same level of quality on a global basis, as we are focussing on growing our print applications and meeting the needs of markets across the world."
"Here at Quad we are serving a variety of industries from food & beverage to personal care and electronics. We are using the Onsets to print display work and a variety of signage and POS related products, depending on exact customer requirements. It has been a significant investment for us, but we feel it is worth it as our clients demand high quality print, and the Onset Q40i can deliver this."
The need for Quad/Graphics to print short runs using digital technologies is continually increasing. With the Onset printer, it is possible to print short runs that would have been printed on an offset press, whilst making sure that the overall quality that is demanded by customers is maintained. In addition Fujifilm inks provide excellent adhesion and colour reproduction, and the speed and quality combination is second-to-none, which highlighted it as a must-have device.
Andrzej Platek concludes: "The investment in the Inca Onset Q40i is already paying off, and we have been very pleased with the level of service and support that Inca and Fujifilm have given us. We anticipate that the relationship will continue to go from strength to strength, and look forward to the new applications we will now be able to provide customers."
www.fujifilm.eu
comments