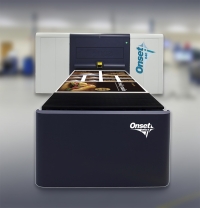 Perfect combination of quality, productivity and flexibility has prompted the leading UK print service provider to sign a deal on the Fujifilm stand
Fujifilm today announces that one of the UK's largest independent print companies, imageData Group, has placed an order for the world's first Inca Onset R40i, which was launched by Inca Digital and its exclusive global distribution partner, Fujifilm, at FESPA Digital 2014.
Driven by continuous research into leading edge printing technology to support both its business growth and its customers' needs, imageData Group was impressed by the performance of this latest addition to the Inca Onset series.
David Danforth, CEO at imageData Group, explains: "We boast a long-standing relationship with Fujifilm & Inca, who have been supplying us with excellent inks and high-end digital printing devices for many years. In 2004 we were the UK beta site for Inca's Columbia Turbo flatbed printer, ultimately installing two of these devices, which was followed by an investment in an Onset S70 in 2007."
He continues: "Over the last year, we have reviewed the market in search of an exceptionally productive and advanced flatbed printer to join our line-up of large format digital machines at Howden, East Yorkshire. The new Onset R40i we saw on Fujifilm's stand at FESPA Digital caught our eye due to its perfect mix of features."
The print quality and production flexibility offered by the new machine were key in the company's decision-making process. David highlights: "We work with a wide variety of clients across the public, corporate, retail and allied sectors, and are committed to guaranteeing the most efficient, high quality range of services. The Onset R40i boasts productivity of 400m2/hour, a maximum output resolution of 1200dpi, and the ability to handle media up to 50mm thick. We are confident that this combination of features will raise the bar in terms of our productivity and help us to manage a wide variety of new jobs."
imageData Group has invested in the Onset R40i printer together with the Inca 3/4 automatic material handling system, which provides superb accuracy and flexibility across the complete range of materials used in the POP arena. David concludes: "We believe that the integration between the device and Inca's proprietary material loader will enable us to print non-stop onto a variety of substrates used in the POP & display markets, improving our efficiency and enabling us to be more competitive."
comments