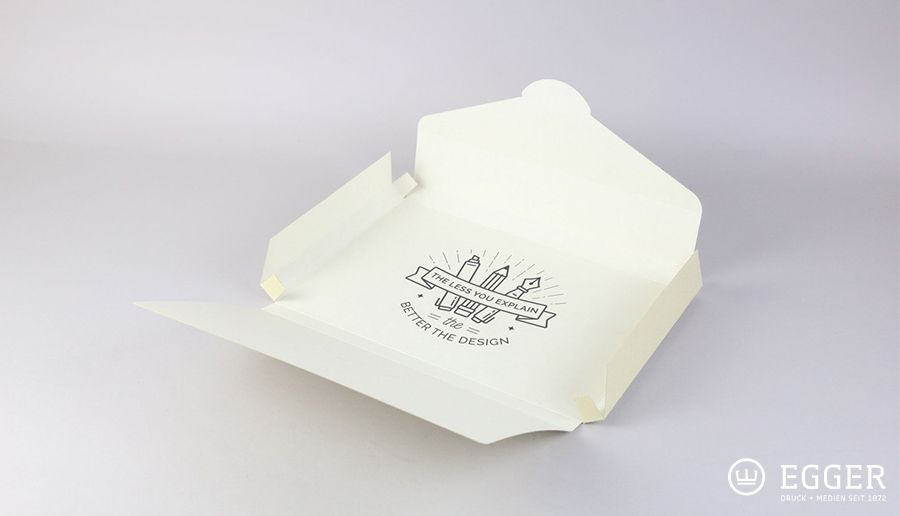 More design space for a direct customer approach and extraordinary unboxing moments that stay in the memory.
Recently, there are new design options to discover on the packaging online shop madika.de: For a selection of folding boxes, customers now have the option of printing on both sides. Designers and marketing professionals can thus create even more extraordinary unboxing moments for their customers to set themselves apart from the competition.
The online shop madika.de, which belongs to the premium printing company EGGER Druck + Medien GmbH, is now offering full-surface double-sided printing on a total of six packaging solutions. These include popular classics such as the folding box, the hinged box, the pouch box or the cardboard banderole, which is suitable for seasonal branding. Customers can choose between 4/4 printing and 1/1 printing (black, white or silver) depending on the type of carton they want. The paper types in the online shop's assortment also include "exotic" materials such as regional grass cardboard and Gmund Used, which is made from 100% recycled paper.
"With our diverse selection options, we want to reflect current trends," explains Managing Director Xaver Egger, "On the one hand, the trend is towards individualisation and personalisation. For this reason, we have now implemented double-sided printing, but also offer printing with Pantone colours, for example. There is also an increased demand in the area of "sustainability". We are responding to this, for example, with new, sustainable board types such as Gmund Used."
Printing on both sides can be used in a variety of ways to design packaging: A full-surface print on the inside of the box can showcase the brand logo in an original way. Personal greetings that only become visible once the product has been removed make the product and brand approachable and likeable. The inside print can also be used to create an additional benefit, for example with further instructions on product use, a complementary recipe or clever storytelling - there are no limits to the imagination. Especially in combination with an individual inlay, an extraordinary unboxing moment can be created, with which brands are positively remembered.