The joint venture between Koenig & Bauer and Durst is bearing fruit. And these are so extensive that with the new Varijet 106 a completely industrial, digital inkjet press has been created that satisfies even the highest demands. And if that's not enough, there is also the option of incorporating analogue printing technologies for finishing. By Sabine Slaughter
In the brand-new 3,000-square-metre Customer Experience Centre (CEC) which opened in April 2020 during the lockdown in Radebeul, Koenig & Bauer Durst welcomed the international press to a world premiere in October. The first digital folding carton press, the Varijet 106, was presented.

The new strategy for 2021 is specialisation and segmentation with the Competence Center Packaging, Competence Center Labels, Competence Center Commercial/Web-to-Print and Competence Center Campus Training. The Competence Center Packaging includes a Rapida 106 C-7+LTT-1+L, a Rapida 145-7+LTTL and a Varijet 106. The self-contained workflow circuit for packaging production is completed by the CutPro X 106-4 SB and CutPro Q 106 SB finishing presses and the Allpro 110 folder gluer. The workflow includes MES and MIS. Koenig & Bauer thus offers a complete solution from stocking, printing and finishing through to dispatch.
Varijet 106
Equipped with the latest generation of Fujifilm Dimatix Samba printheads, the Varijet 106 achieves a resolution of 1,200 x 1,200 dots per inch with seven colours (CMYK+O+G+V) in single-pass printing. The water-based inks are suitable for the food industry. The strict requirements for the production of food-safe primary packaging are met.
Printing is possible on coated and uncoated substrates with a thickness of 0.2 to 0.8 millimetres, with a minimum format of 750 x 500 millimetres and a maximum of 1060 x 740 millimetres.
Inline primer and coating
Even the standard configuration includes an inline primer and coating. In this configuration, the Varijet 106 is 28 metres long, 4.1 metres high and 5.9 metres wide. This means that the Varijet is not necessarily the smallest press. But it does offer a wide variety of modules. The standard version comprises a sheet feeder, coater, inkjet printing unit with conveyor belts, dryer, cooling unit, coater and sheet delivery (including delivery extension and drying). The modular integration of upstream and downstream processes and the register accuracy which can be achieved through inline production are precise and accurate.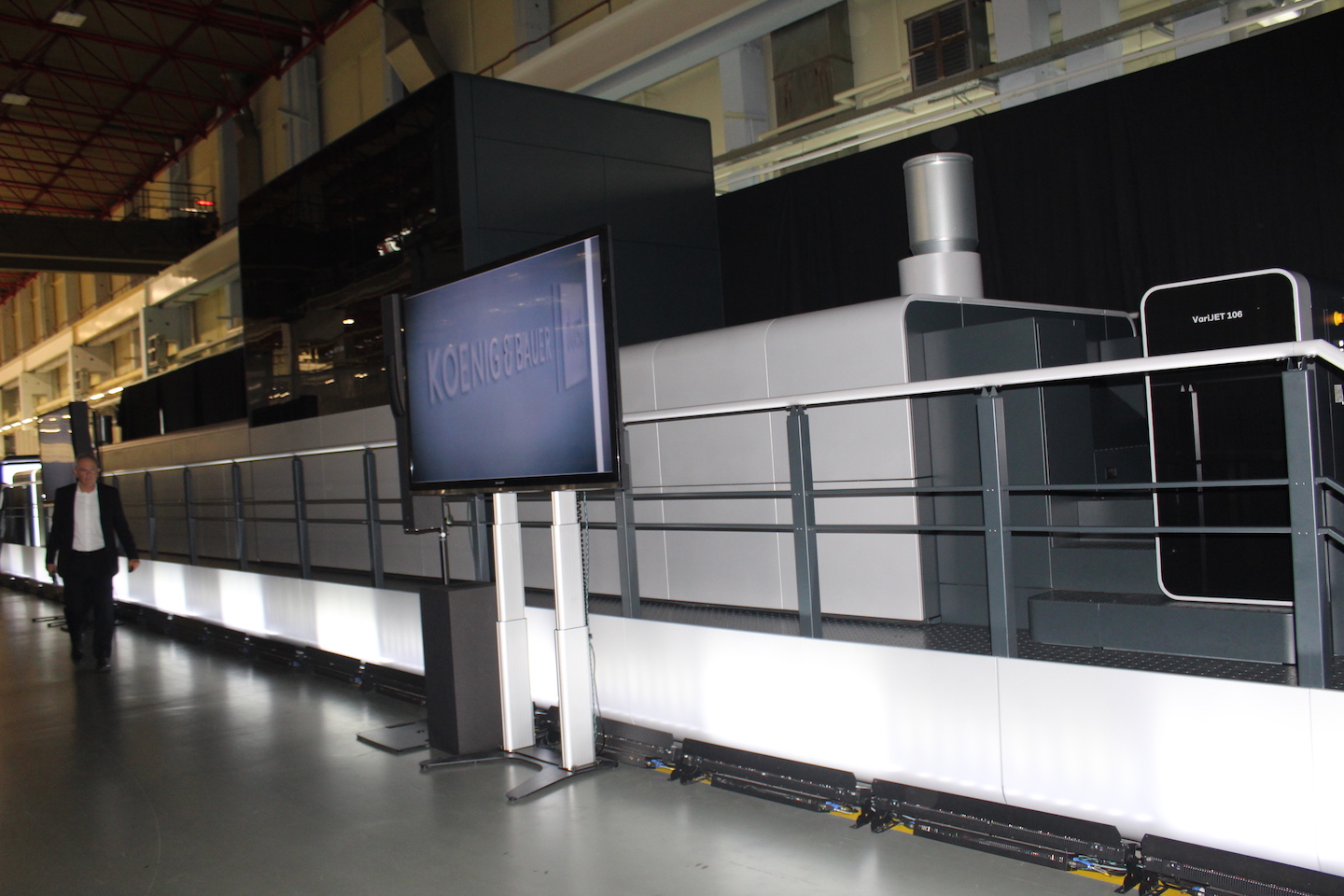 The print heads are moved upwards for cleaning and therefore do not require any extra space at the sides. This has the advantage that the inkjet unit is very compact.
Added to this are the Durst workflow with RIP technology, software products for analyses, Smartshop and workflow. The Varijet 106 is built on the standard Rapida 106 platform, which puts it in the "heavy metal" category and makes it very robust.
In line with market trends
The maximum speed of 70 metres per minute (5,500 sheets per hour) and the ability to print variable or customised products - both image and text data - are in line with the current trend towards shorter runs (up to run length one). But medium runs can also be produced cost-effectively and efficiently on the Varijet 106. With the option of integrating further inline modules for finishing or work/print preparation into the press, a hybrid press can be individually configured to meet the exact requirements of a particular customer.
Digital printing also saves waste, ensures competitive operating costs, requires fewer resources and is thus naturally more sustainable.
The target group for the press, which is marketed by Koenig & Bauer, includes folding carton manufacturers primarily in the pharmaceutical, cosmetics, tobacco and food industries.

New requirements
"Successful companies need to be able to pick up on emerging trends and offer solutions. Brand owners want their products to always stand out and demand shorter lead times, while eliminating waste and meeting sustainability, traceability and tracking requirements. They also want to ensure that new production methods are reliable, compliant and cost-effective, while converters must have the skills and competencies to undertake mass customisation without compromising quality. We are meeting these requirements," explained Robert Stabler, managing director of Koenig & Bauer Durst.
"We need to understand and optimise the total cost of supply chain for customers. Managing supply chains is becoming an even greater challenge in the face of raw material shortages, rising inflation and brands' sustainability goals," Robert Stabler continued. "Therefore, we need to offer machines that provide maximum flexibility in the production of test packs, new designs and campaigns. In addition, we need to support faster turnaround times. Our focus must therefore be on automation and standardisation of processes with few touch points." With the Varijet 106, Koenig & Bauer Durst has succeeded in this.
The first jointly developed press from Koenig & Bauer Durst combines the strengths of both companies - Durst's expertise in inkjet printing and workflow, and Koenig & Bauer's accumulated knowledge and competence in press engineering and finishing. The result is a very successful combination of a hybrid press that is in line with market trends in the folding carton market.
comments