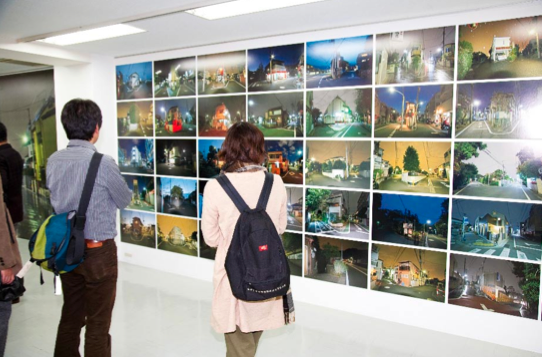 Everything, from large-format prints to exhibition invitations, was produced using HP cutting-edge printing technology
Countless Y-junctions exist, not only in Japan, but also worldwide. Tadanori Yokoo was drawn to these usually unnoticed places and has continued to paint them for many years. With this artwork by Yokoo - who has exhibited his exceptional ability in various fields, including painting, film, plays, music, and literature - you'll enjoy original points of observation and unique global perspectives in condensed form; it's considered a true signature work.
Yokoo explains his theme. "Y-junctions are special places where one road forks into a 'Y' shape. In modern cities they are also extremely difficult to exploit usefully, and thus I sense their gradual demise. Perhaps I'm continuing to chase after a city landscape that will become extinct in the future."
Yokoo's creative output, with almost 100 painted Y-junctions, has gone from painting to the expressive medium of photography. Here, he focuses anew on Y-junctions but in a distinctly different way.
Eliminating people from Tokyo's Y-junctions
Yokoo describes his careful photography preparation. "While I had already taken many photographs of Y-junctions as painting materials, one day I decided to visit the Y-junctions in Tokyo and assembled them as a photo series. From the start I insisted on having no people in the photos. In Tokyo, where the presence of people is a given, I strove to portray Y-junctions non-realistically."
However, doing so was no easy task, as Yokoo explains: "Nowadays, with computer graphics, you can immediately erase people from photographs. But I didn't want to do that. I just kept waiting, committed, hoping that people would leave. Eventually that moment came, and when I opened the shutter it felt like my prayers had been answered."
Of the Y-junctions that Yokoo photographed in his meticulous exploration of Tokyo's 23 wards, outskirts, and islands, he chose 248 works for the photography compilation "TOKYO Y-JUNCTION." To celebrate, he is holding an exhibition by the same name at Nishimura Gallery, Chuo Ward, Tokyo, Japan.
There, Yokoo reflects on the importance of a giant, wall-size printed work. "When I visited Nishimura Gallery and was considering the exhibition artwork selection and layout, I thought how I'd like to hang a wall-size Y-junction photograph. I'd been pondering it for a while; once when I visited New York, I saw a giant photograph on a building and thought I'd like to do that in Japan sometime."
Cutting-edge digital printing technology that supported the exhibition
However, only one digital printer could meet Yokoo's special needs: HP Japan's large-format HP Designjet L65500 Printer, which facilitated the production of a wall-size work. The printer features the newly developed, odourless HP Latex Inks for more comfortable indoor exhibitions.
Standing in front of his newly printed giant-size work, Yokoo expressed delight with its high quality and reproducibility. "I was surprised at the lack of join lines in the print and that it had been completely printed as a single work. Standing in front of it, it feels like I've entered the actual Y-junction depicted."
Including the giant wall-size print, approximately 100 works were selected from the photography compilation for the exhibition. HP printed all the artworks, using the large-format photo printers HP Designjet Z3200 and HP Designjet Z6100. These printers have 12-ink and 8-ink printing systems respectively, use HP Vivera pigment inks, and deliver beautiful photo quality and high colour accuracy. In addition, HP printed the exhibition's invitations on an HP Indigo press 5500, which uses Electroink liquid ink technology to be able to do short print runs with offset printing quality.
In response to the high-quality digital prints enabled through this cutting-edge technology, Yokoo expresses his hopes for new art born from the conflict between analogue and digital. "An analogue human being like me can't keep pace with the digital world. However, I think that as the analogue and digital worlds move farther and farther apart, the impact of their eventual collision will be greater. That's why I hope HP continues to pursue cutting-edge printing technology, far ahead of my comprehension. Meanwhile, I might lean toward analogue or I might try to catch up with digital technology. Either way, our actions will spawn novel expressions in the new age."
 
comments