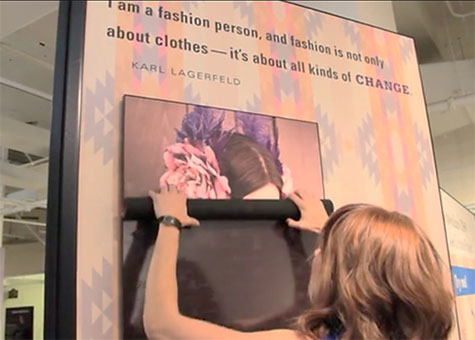 The average employee spends more waking hours in their office space than anywhere else. Colorful, exciting décor for offices can foster a creative culture, give a great first impression and boost overall morale in the workplace. Signage and office graphics can quickly ramp up the décor in your office space. Think of your current office as a blank canvas. Now it's time to transform that blank white space into something fun, unforgettable and inspiring that will make your employees excited to come to work. Whether you're designing a large office or sprucing up a smaller space on a budget, we have creative solutions and unique decorating ideas for your workplace.
Magnetic Graphics
Using magnetic receptive graphics, like the Visual Magnetics Graphic SystemŸ, you can create memorable displays of thin, magnetic layers that are easily changeable and transferable. These magnetic signs and graphics are perfect for spaces looking for an impactful décor option that can be easily manipulated to offer a wide variety of themes and colors. The installation is seamless, making magnetic graphics a good choice for offices intent on decorating their own space. Magnetic graphics can add texture, dimension and layered images to any space. They're also easily interchangeable to cater to a different audience or communicate a timely message. Consider using magnetic receptive graphics for your retail space running a special promotion or to create a stunning pop-up showroom at a trade show.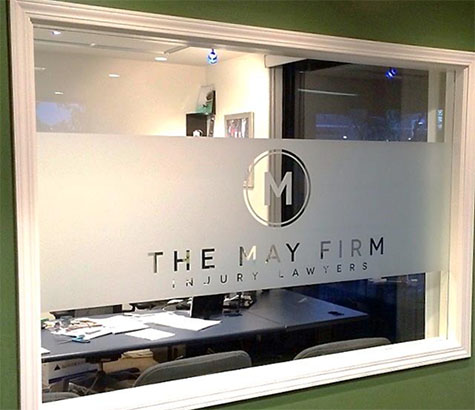 Digital Signage
Digital signage is a great way to create noticeable messages for your employees. Digital signage has been shown to grab attention, as the eye notices motion on a screen. This is a perfect signage possibility for retail spaces marketing tangible products or hospitals conveying important messaging that can change at a moment's notice. A digital sign in the lobby of your marketing and communications agency can be a scrolling timeline of news events and broadcasts to keep your employees informed as well as a map of the building for visitors.
Fine Art Prints
Fine art is expensive. Your employer probably doesn't want to allocate significant resources to display renowned art pieces throughout the entire office, but that doesn't mean you can't get large, colorful prints that inspire. FASTSIGNS can produce high-resolution replicas of your favorite licensed photographs or extraordinary paintings for larger-than-life pieces of artwork to showcase throughout your workplace. Fine art prints make wonderful decorations for offices to craft calming or stimulating environments.
Imaged Glass
If your office has barren glass walls, doors and windows, consider using etched glass to transform them into something more exciting. Etched glass creates a professional look and is perfect for law offices, corporate buildings and more. You can choose from a wide variety of messages, themes and graphics. Frost your company's logo in stunning font along glass doors or conference room walls. You can even create privacy for executive offices with stylish imaged glass.
Office Wall Graphics and Lettering
Wall graphics and lettering are cost-effective alternatives to wall décor options like custom paint jobs or expensive wallpaper. Wall graphics can communicate a wide variety of messages. These are made from a durable, flexible material and make great murals, coverings and display backdrops for any business. You can depict a relaxing ocean setting in one room and a rustic mountain mural in another. With wall lettering, your office's walls can also be encouraging reminders to work hard and continue to find inspiration each day in and out of the office.
Dimensional Lettering
Transform your logo or business name from dull and flat to something that really pops with dimensional lettering. Leave an impression with lettering that does more than make a statement, it grabs attention. Whether you are looking to present your company name more boldly or create custom quotes and graphics that stand out, dimensional letters can serve as both decoration and function. Signs can be constructed with a variety of durable materials, including acrylic, wood and aluminum and can transform the look of any office in moments.
Making your office feel more inviting doesn't have to be a chore with easily-applied office graphics and exciting décor tips. Don't let fluorescent lighting and blank walls deter you from making your office a comfortable, creative work environment. Your office is an extension of all of the dedicated people that walk through its doors each morning, make it a place they are proud to enter.
 
comments