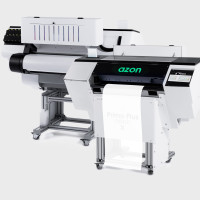 The Azon's latest 24" (60 cm) sized range encompasses Primo+ Neon and Primo+ Neon X (CMYK + White + 4 neon colors).
Azonprinter has moved the boundary of the DTF printer technology and brought it to a new level.
Some of the features are the built in ink tank agitation and recirculation systems, and an automatic nozzle check in programmable time frame.