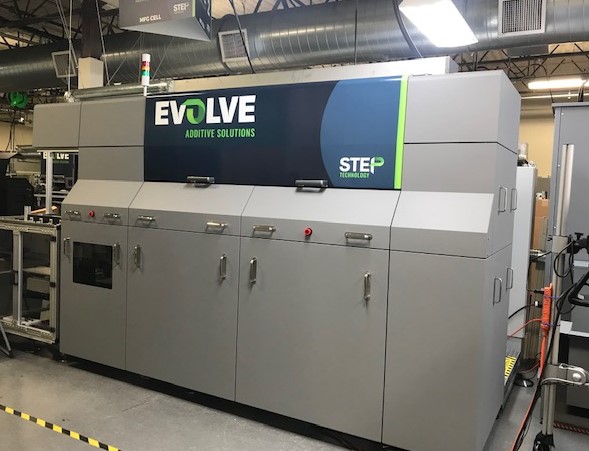 Eastman Kodak and Evolve Additive Solutions, Inc. announced a technology partnership where Kodak will supply Evolve imaging systems, parts and consumables based on the KODAK NEXPRESS digital electrophotographic platform. In addition, the companies have signed Joint Development Agreements for equipment and materials with the goal of helping further develop Evolve's Selective Thermoplastic Electrophotographic Process (STEP) technology in anticipation of the commercial release in 2020. STEP is Evolve's proprietary 3D printing technology for additive manufacturing. Kodak has also licensed relevant intellectual property to Evolve in support of the development effort.
Kodak has been pioneering work with electrophotographic technology for more than 40 years. The award-winning KODAK NEXPRESS Platform delivers unique print capabilities in a modular and upgradeable package, making it an ideal platform for Evolve to leverage and transform into a leading production technology for additive manufacturing. Evolve will be utilizing a Kodak-developed toner manufacturing process to make the part toners for the Evolve system. The electrophotographic technology is part of the whole solution comprising hardware, materials, processes, workflow software, and services required to print and finish parts cost effectively at high quality and high speed. Collaboration and cross fertilization of ideas between the two teams is expected to reach beyond materials and components to manufacturing, service and support.
"We are very encouraged by the opportunity to expand our electrophotographic platform capabilities outside of 2D imaging to the 3D printing or additive manufacturing sector," said John O'Grady, President, Print Systems Division, Kodak. "Having worked closely with the talented staff of engineers working on the STEP technology for several years, we are confident Evolve will help change the way the organizations approach production of plastic parts for manufacturing."
Evolve's STEP technology will sit alongside traditional manufacturing processes, such as injection molding on the manufacturing floor, augmenting an organization's production capabilities allowing freedom of design and "toolless" production. The first STEP system has shipped under an alpha development program and has been installed at a strategic partner location utilizing resources from both Kodak and Evolve.
"Creating a strong technology partnership with Kodak is an important element in the development of STEP," said Steve Chillscyzn, CEO of Evolve Additive Solutions. "The selection of the Kodak systems and technology for STEP allows us to deliver to the market a highly-reliable solution, based on a proven engine that is recognized as one of the most productive printing systems in world. By working with Kodak, we have a technology and a collaborative relationship that will not only allow us to get to market quickly, but we will have the throughput expansion to grow as we push STEP capabilities into the future."
www.evolveadditive.com
comments