"Experience Print In Motion" was the theme of the global speciality and commercial printing community which is recovering from the effects of the Covid 19 pandemic. At the same time the European Sign Expo took place in Berlin. By Sabine Slaughter
The motto makes you think. "Print in motion" what should one imagine by that? Well, the fair gave multiple answers to this question: At a time when speciality and commercial printers are facing many challenges and have done so in the past two and a half years, a lot has happened. The industry has not stood still but has reinvented itself again and again. New applications have come and are coming all the time. The demands, partly due to pandemic restrictions, partly due to market or customer requirements or wishes, are increasing every day. Innovations by print service providers and press manufacturers ensure that the graphic arts world does not stand still and continues to move.
The motto is to take account of this evolving progress through innovations, new ideas and applications. And that also includes another topic: Sustainability. Because without this there is no progress, no further development that meets the demands of manufacturers, brands, customers, agencies, printers and all those involved in the printing process. The "break" of the traditional, the well-worn ways through the various pandemic measures, be it lockdowns, new work regulations, distance rules (also at the workplace) as well as the increased use of the home office, has changed and shaken up the world. The new normal includes not only certain requirements for equipment and applications, but also to check them for ecological factors. In short, putting the sustainability of everything to the test.

Movement not stagnation
"A rolling stone gathers no moss" - this proverb is truer than ever in today's times. It implies constant progress, permanent innovations, but also putting everything to the test. This also includes work processes that can be streamlined and automated - if the right software and the hardware tailored to the company are available. Considerations of which applications are requested by customers today and which ones can enrich the portfolio in the future are also part of this. The satisfaction of existing and new customers plays a major role in the evaluation. Today, tomorrow and the day after tomorrow should be included in the planning.
Business success counts
What good is the nice, new, shiny press in the shop if it's not working to capacity and can't do the jobs the customers want? Or the old, used, slow printer that can do the job, but you need two of them to handle the flood of orders and which also consumes a lot of electricity and is unsustainable? Both are bad for business. In this case, appropriate working materials - both in the area of software and hardware - should be replaced, acquired or not purchased. Decisions can only be made if the existing processes, job portfolios, equipment and also consumables have been checked for their sustainability. The right mix makes the difference and ensures the success of the company.
This and much more was discussed in the various seminars. In particular, the topic of sustainability, which this year had its own seminar programme and stage, was well received by the visitors.
Many visitors were pleased to have the opportunity to see new products and to see live and in action the devices and applications developed during the Covid 19 period, which was not a trade fair, and which they had previously only seen demonstrated online, i.e. virtually. The eight halls of Messe Berlin with 375 exhibitors saw 15,969 visitors (including multi-day visitors, 11,647 "unique" visitors) over the four days of the fair. The largest delegations of visitors came from Germany, Italy, Poland and the Netherlands as well as the United Kingdom - in total they came from 126 countries.

Confident audience ready to invest
"The considerable buying power of our visitors and the broad international audience are clear evidence of the upturn in our global community. We are seeing confidence return, inspiring business leaders to invest and also to resume business travel, live events and face-to-face networking when they know it will bring tangible benefits to them," concludes FESPA CEO Neil Felton.
"The enthusiastic feedback from exhibitors and visitors in Berlin shows us that print industry professionals want and need face-to-face contact, and that FESPA is the place where they come together. Now we look forward to the return of strong FESPA events in Mexico, Eurasia and Brazil, and beyond to our next Global Print Expo in Munich in May 2023. We can't wait to inspire the same energy and optimism in the specialty printing communities in other regions."
Adobe
The Adobe Print Engine 6.0 was presented at Fespa. Among the innovations in this version is an optimised ECG processing (Expanded Colour Gamit). Furthermore, it includes one-step colour conversions on systems that print not only CMYK but also OVG colours. This is to achieve an efficient and precise output.
The software also includes the option of managing and automating finishing and inline enhancements, whereby varnishes and white underprints are generated automatically from job elements during runtime. Variable data printing has also been improved.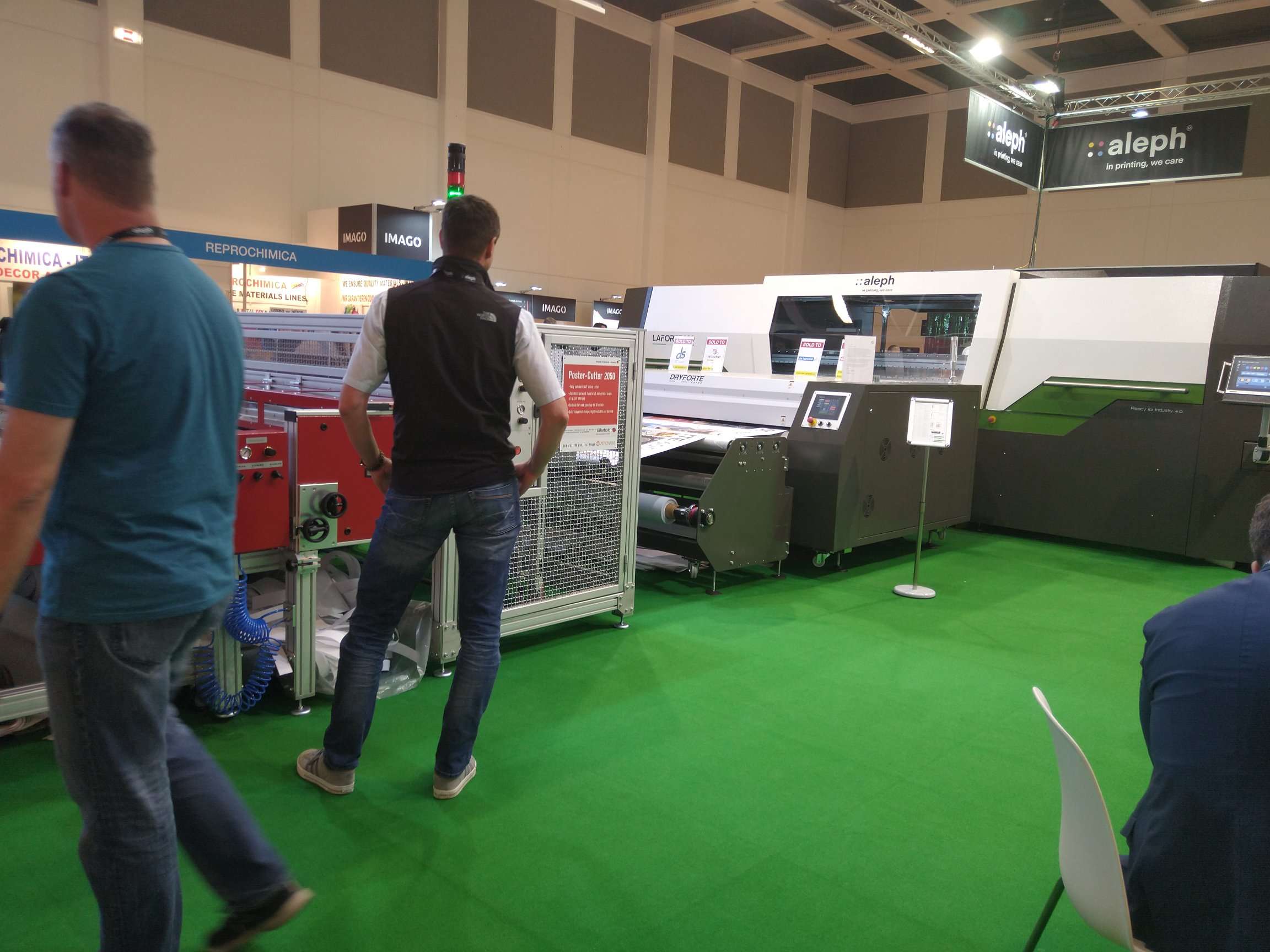 Aleph
The LAFORTE 600 is an industrial inkjet printer designed to produce extremely high-quality printed paper for indoor and outdoor communication in long runs. With print speeds of up to 850 square metres per hour (24 printheads) and 1,000 square metres per hour (48 printheads) at a print resolution of up to 1,200 dots per inch, the LAFORTE 600 Paper is one of the fastest water-based inkjet printers on the market. The model on display at the show featured aleph's proprietary A22 water-based graphic pigment ink, which exemplifies environmentally friendly practices and demonstrates that using a waterless process is critical to environmentally friendly print production. The A22 graphic pigment ink is currently in the process of achieving Greenguard certification.
The new LAFORTE 340, an outstanding direct-to-garment inkjet printer for textiles - equipped with aleph's M22 textile pigment inks designed to deliver outstanding print quality with high fastness and speed at a competitive price. With a width of 3400 millimetres, aleph's LAFORTE 340 has been specifically designed to meet the needs of the home textile market segment. With extreme flexibility and a production speed of up to 570 square metres per hour, this printer is perfectly suited to meet the growing demand for customised on-demand applications in the interior design sector, as it allows users to streamline the production of wallpapers, curtains, drapes and upholstery. The use of GOTS-certified M22 water-based pigment inks meets the growing demand for sustainable production solutions and enables a more environmentally friendly, efficient and cost-effective production process.
ATPColor
The Italian company brought the ATPColor OneTex 5200 with integrated calender to Fespa. The 5-metre machine is the first textile printer in the world to be certified by Fogra under ISO 20690:2018 for energy efficiency, says the company. The energy consumption per square metre is one third of that required by a 1.6-metre eco-solvent printer.
Azonprinter
Creed is the name of the company's new baby, or UV printer. The open design enables printing on objects with a flat surface of 1,600 x 1,200 x 1,000 millimetres. This means that even bulky objects such as windows, large signs, wine barrels, furniture and others can be printed. The Croatian manufacturer advertises the device as being able to print directly onto objects "that do not fit into any standard printer".
Brett Martin
At Fespa, Brett Martin, in collaboration with Covestro, launched the sustainable Marlon BioPlus polycarbonate sheet, which represents a quantum leap towards climate-neutral plastic sheet produced from a certified mass-balanced source using bio-based raw materials. The Makrolon RE replaces 71% of fossil raw materials with bio-based material (via a mass balance approach), e.g. from used cooking oils. In addition, further carbon reduction is achieved through the use of green energy in the production of the raw material.
Commenting on the development, Barbara Giershausen, Sales Manager at Covestro, said: "As we move towards a circular economy, we support our industry partners in achieving their sustainability goals. With our Makrolon RE portfolio, customers like Brett Martin have exactly the same quality and performance as fossil-based Makrolon without having to change existing production processes."
Covestro is applying a mass balance approach through ISCC PLUS (International Sustainability and Carbon Certification) to achieve the allocation of this low carbon material to Brett Martin, so that Brett Martin can give its customers full assurance on the new sheet options. The partial shift away from fossil feedstocks and the benefits of secondary use of the bio-certified feedstock enable the process to reduce the carbon footprint by 84% during the production of Makrolon RE. This saving is further enhanced during the extrusion of the Marlon BioPlus film, which is powered by 100% renewable electricity generated directly from Brett Martin's own wind and solar plants.
The mass balance approach offers users of the Marlon BioPlus range in flat, multiwall and corrugated polycarbonate sheet formats both practical benefits and certified safety. This opens new doors for specifiers, fabricators and manufacturers to choose a more sustainable polycarbonate from renewable sources and with a low carbon footprint.
William Martin, director at Brett Martin, commented, "The drive for sustainable, carbon neutral plastics is progressing well and our launch of Makrolon RE from a mass balanced and certified source of bio-circular feedstock takes this to the next level.
ColorGate
The new Productionserver 22, a colour management and RIP solution was introduced for various applications including packaging, decorative, textile and ceramic printing. The new version of the software uses the Adobe PDF Print Engine 5.7 for rendering. Version 22 has been equipped with the Color Correction Loop Module to enable optimised quality in decorative productions. Also on the stand were the Rapid Spectro Cube and Custom Create, a web-to-print solution.

Canon
The Japanese company had adopted the motto "Make it Big" and brought three new developments to Berlin. With the UV gel technology FLXfinish+, matt and glossy prints can be produced on one press in one pass. Matthew Faulkner, EMEA Director Marketing and Innovation describes it this way: "Despite the spot varnish appearance, the UV gel's curing properties are there." Depending on the curing time - longer or shorter - velvety matt or glossy finishes could be produced. FLXfinish+ is available immediately and can be upgraded at low cost on the Colorado 1630 or 1650 printers.
The Arizona 6100 II has the fastest print speed in its class, according to Canon. It can print 220 square metres per hour. The unit is designed to produce up to 300,000 square metres per year.
Porous cardboard, highly warped substrates and other difficult-to-print materials can be printed on with the Arizona 6100 XTHF Mark II. High Flow technology produces 15 times the suction of the Arizona XTS.
In future, the production workflow can be controlled with the Prisma X-Suite. This has been specially developed for large-format printing and includes a remote app for remote monitoring and cloud-based support.

Dataline
The Belgian company came to the fair with the latest version of its MIS/ERP system for large format printing. MultiPress integrates all administrative, financial, commercial and logistical processes of a company. It also offers a CRM function. The individual modules, for example for quotation calculation, order management, logistics and delivery management, planning and invoicing, work hand in hand, whereby companies can start with just one module and add further modules as required. An e-business tool for web-to-print integration and an assembly app for mobile employees are also part of Dataline's programme.

Durst
The company showed its P5 large-format printing systems. These included the Durst P5 500 with a print width of 5.25 metres, which was launched at Fespa. The P5 500 LED printing system uses Ricoh printheads and the overall system is designed for efficient and unattended production. In addition to CMYK, four further colour channels are available - for example for light colours (c, m, k), white or varnishes. To ensure productivity even in this dimension, media handling plays a central role. For this purpose, Durst offers roll support for loading and changing the media. The rolls can be processed in single, dual and triple mode - in dual mode even asymmetrically. Double-sided printing is achieved through exact front and back registration. For finishing, Durst offers additional options - these include knives for horizontal and vertical cutting. The company expects the first P5 500 LED printing systems to be ready for delivery in the last quarter of 2022.
In parallel, Durst is boosting the productivity of the existing P5 UV LED series to a new level of performance with the new Double 4 technology. With the Durst P5 Double 4, Durst presents an interesting further development for new and existing customers. Optionally, a second CMYK print head row can be installed in the P5 UV printing systems to achieve double the productivity. The option is available for the P5 350/HS and the P5 210/HS.
Two flatbed printers from Vanguard's product range were on show. The VR6D-HS and the VK300D-HS cover the mid-range performance spectrum. They feature an attractive price-performance ratio and can cover a wide range of applications thanks to their modular design and various ink configurations.
In order to implement the "From Pixel to Output" approach in practice, innovative software solutions are also required. Durst Software & Solutions has initiated numerous developments in recent years to optimise and automate processes. A total of four software packages are offered that cover all relevant administrative as well as production-related aspects. These include ERP/MIS with Durst Lift ERP, Web-to-Print with Durst Smart Shop & Editor, Prepress & Production with Durst Workflow and Data & Transparency with Durst Analytics. All products are modular and can be individually adapted and expanded. Typical areas of application for Durst software packages are large-format, label, corrugated and textile printing.
With the presentation of the Durst TAU RSC platform, Durst also presented its LFP customers with a possible portfolio expansion in the direction of label and flexible packaging printing. "The pandemic has once again shown how important it is to position oneself as broadly as possible as a service provider. The production of labels or flexible packaging offers this potential for our LFP customers," said Christian Harder, Vice President Sales of the Durst Group.

EFI
The new EFI Reggiani ecoTERRA pigment solution debuted and is an advanced integrated solution for streamlined, greener textile printing, according to the company.
The EFI Reggiani ecoTERRA is a complete solution for water-based pigment printing that requires no additional equipment for pre- and post-treatment. The patent-pending technology gives customers a distinct competitive advantage, the company says, as it dramatically reduces energy and water consumption in the overall process, making direct-to-fabric printing more sustainable. Users benefit from ecoTERRA's excellent wet and dry fastness, sharpness of detail and high durability, which also enables longer printhead life and lower maintenance costs.
The new ecoTERRA ink range includes 7 colours - cyan, magenta, yellow, black, blue, red and green - offering an extended colour gamut. An improved polymerisation and finishing unit for the EFI Reggiani ecoTERRA also gives the fabric a softer feel and ensures performance that meets the most stringent requirements of the textile industry.
In wide format printing, EFi brought to Berlin the 3.5-metre-wide EFI VUTEk Q3r LED inkjet printer, the fastest roll-to-roll superwide format solution in its class. Part of the VUTEk Q series, which also includes the 5.2-metre-wide Q5r model, it features a new inline print quality inspection system and a new UltraClear Coat option for more design and application options.
The 3.2 metre wide EFI Pro 30h LED hybrid roll/flatbed printer is designed for sign and display graphics production. With a speed of up to 230 square metres per hour, it offers four colour and two white channels as standard, prints at a resolution of up to 1,200 dots per inch and features an EFI Fiery proServer Core Digital Front End (DFE) with FAST RIP acceleration technology.
The EFI VUTEk Q3r printer, with production speeds of up to 558 square metres per hour, is a mass production workhorse suitable for everything from fleet graphics, truck side tarps and building wraps to POP signage, backlit graphics, exhibition graphics and window dressings. The new EFI UltraClear Coat option, available for the VUTEk Q3r and other roll-to-roll printers, offers improved resistance to abrasion and scratching, chemicals, weathering/air pollution and UV fading/yellowing. UltraClear Coat prints inline with gloss or matte finishes and selective or full-coat options for protection or design enhancement.
The cloud-based EFI IQ, EFI Fiery Pre-It (print-for-cut solution), Fiery JobFlow were also shown. Included with the purchase of a new VUTEk Q3r and other new EFI LED printers is a one-year subscription to EFI IQ, a cloud solution that gives users more ways to monitor production and printer usage - including accurate job-level consumables tracking data - to reduce downtime and costs. As the only management programme with a direct link to EFI printer data, IQ helps business leaders better manage day-to-day production and make better, data-driven resource allocation and capacity optimisation decisions.
Another new production workflow offering at FESPA - EFI Fiery Prep-it software - was a powerful and cost-saving print and cut preparation solution that can be used with any wide or superwide format DFE. Fiery Prep-it reduces the time required to nest complex objects for wide format printing by up to 90% and reduces media consumption by 10% or more compared to competing true-to-form nesting solutions. The media savings mean that this cost-effective and effective software can pay for itself in as little as two months, according to EFI.

Epson
The Monna Lisa ML-8000 dominated the presentation at the Epson stand. The textile printing system achieves printing speeds of 155 square metres per hour and has eight PrcisionCore print heads of the latest generation. This would fulfil a whole range of requirements in the field of textile printing, especially with regard to flexibility and sustainability. The UV flatbed SureColor SC-V7000 could be seen live for the first time. Also on show were the SC-F2100, a direct textile printer, and the SureColor SC-R5000L, which uses water-based or resin-based inks.

Fujifilm
This also includes Blueprint Live from Fujifilm. Blueprint Live is more than a series, it is a philosophy, a concept, a platform that will help print service providers with their digital transformation and offer them the best for their business, says the company. The first machines were introduced more than a year ago during the lockdowns. Two new machines were on show at Fespa: the Acuity Ultra Hybrid LED and the Acuity Prime L. With the Acuity Ultra Hybrid LED, the Japanese company is entering the high-end hybrid market. Part of Fujifilm's "Blueprint" concept, the Acuity Ultra Hybrid LED is a 3.3-metre high-end printer that prints on both rigid and flexible substrates with outstanding quality. With print speeds of up to 218 square metres per hour. (RTR) and a print resolution of up to 1,200 x 1,200 dots per inch, the Acuity Ultra Hybrid LED is unique in that it combines extremely high quality and a competitive return on investment in a single platform for both rigid and flexible applications.
In addition to tables for loading and unloading media, the Acuity Ultra Hybrid LED also features a nubbed table surface that supports all media types and allows for easy media positioning. A robust locking mechanism protects against accidental damage, and the secure latch allows for precise media feeding every time you print.
An intelligent vacuum control system automatically engages the correct vacuum zones needed for each print job based on the width of the media, and the vacuum motor power constantly adjusts to maintain optimum media adhesion, regardless of media type and size.
Fujifilm has developed a completely new ink range, Uvijet UH, specifically for the new press, available in six colours (CMYK, Lm, Lc) as standard and white as an option. The new ink is both Greenguard Gold and AgBB certified. It is designed to adhere to a wide range of rigid and flexible substrates while maintaining the high quality of the Uvijet GS and AU inks used in the Acuity Ultra R2.
Kevin Jenner, European Marketing Manager, Fujifilm Wide format Inkjet Systems, says: "Our 'new blueprint for wide format', announced last year, is our response to industry demand for greater flexibility, ease of use and better ROI. Our new Fujifilm Acuity range, based on this new concept, is designed to deliver exceptional performance and unbeatable value for money. The Acuity Ultra Hybrid LED is the latest demonstration of Fujifilm's commitment to the continuous evolution of this range to meet changing market demands. Fujifilm has combined its decades of experience in developing exceptional flatbed and roll-to-roll platforms to create a new wide format hybrid platform that sets a new standard in price and performance and offers exceptional versatility and return on investment." The press will be available from the autumn, he said.
With a maximum print size of 3,200 x 2,000 millimetres and a top speed of 202 square metres per hour, the Acuity Prime L comes along. It has six vacuum zones and sixteen pins for perfect media loading. Two jobs can also be run simultaneously on the flatbed printer.
Uvijet HM - an ink system developed specifically for the Acuity Prime series - provides excellent adhesion to a wide range of substrates while producing a wide colour gamut. The new ink range has been optimised to produce high quality, vibrant images day after day.
A new jettable primer further improves adhesion on particularly demanding substrates. This eliminates the need for offline pre-treatment of substrates prior to printing, saving time and money.
Available with up to seven ink channels (CMYK plus white, clear and primer), the Acuity Prime L with Uvijet HM offers printers maximum versatility and value by giving them the flexibility to adapt the system to their own needs.
Hybrid Software Group
SmartDFE, a complete software and hardware package enables inkjet printing to be integrated into the smart factory for customised mass production at mass production prices, the company says. It is the first product jointly developed by the Hybrid Software Group companies: ColorLogic GmbH, iC3D, HYBRID Software, Global Graphics Software, Meteor Inkjet and Xitron.
Smart DFE is designed as part of a fully automated manufacturing solution and supports Industry 4.0 telematics and MIS integration. It combines in one powerful solution the creation of optimised print-ready PDF files, workflow and job automation to connect to enterprise IT systems, RIPping, screening, optimised image quality and controls print data directly to the print heads via Harlequin Direct at blazing fast speeds through Meteor software and electronics.
SmartDFE meets the need for fully variable data, enables complete control of the print workflow and provides valuable information for quality assurance and inspection, press maintenance and inventory management. Smart Media Manager sets the press for optimal print quality by creating intelligent media definitions, including ICC profiles for specific ink types and media, using technology from ColorLogic GmbH.
Mike Rottenborn, CEO of Hybrid Software Group, says: "With the expansion of Hybrid Software Group, we are the industry's only provider of all the core technologies, software and electronics required for inkjet printing. Our SmartDFE enables manufacturers of digital printers or digital printing subsystems to sell their products in highly automated manufacturing environments and helps their customers implement initiatives such as Industry 4.0. SmartDFE is based on tight high-speed integration, communication and control between components from job creation to printheads. It enables our customer to collect detailed data from each print device and the entire factory and use that data to predict and control the press for highly efficient print production."

Kornit
For the first time at FESPA, the entire ecosystem of textile MAX digital production systems and powerful workflow solutions was on display, covering the entire spectrum from pixel to package to front door. Visitors experienced new possibilities when physical and virtual worlds come together to unleash the potential for on-demand, sustainable production.
MAX technology-based solutions enable fulfilers and brands to create retail-quality applications, including 3D, vinyl, screen, sublimation and embroidery effects - all in one solution. Integrated with the powerful KornitX workflow solutions, customers can now manage textile production from pixel to package at the doorstep in a streamlined workflow process. In addition, Kornit's end-to-end digitised production workflow and streamlined, flexible and profitable just-in-time fulfilment solution is setting standards across industries in apparel, sportswear, home décor, accessories, custom fabrics and other diverse, high-fashion textiles. This enables customers to set up fast and integrated production workflows for the highest quality and durability in a smaller footprint.
"Our vision at Kornit is not only to produce superior technology, but also to create better experiences for our customers and their customers, whether in the physical world, the virtual world - or both," said Omer Kulka, chief marketing officer at Kornit Digital. "Kornit is committed to helping the industry eliminate waste to meet the imperative of sustainability, relying on nothing less than graphic brilliance and the strictest quality standards. Our range of revolutionary, technology-driven MAX production systems and innovative workflow features underlines this commitment - and we encourage visitors to FESPA to come and see it live."
Among the products on display was the Kornit Atlas MAX Poly, which the company expects to become the new standard for high-volume, on-demand polyester decoration, with superior quality for polyester and poly-blend garments - one of the fastest growing vertical textile sectors. By removing the barriers to digital printing on coloured polyester, the casual sportswear, promotional products and sports brand markets can now benefit from a wide range of coloured designs to breathe new life into apparel.
Kornit Presto MAX is the highest-performing, most sustainable, single-step digital printing solution for high-quality, direct-to-fabric decoration and the only digital printing system that enables white printing on coloured fabrics, according to the company. The Kornit Presto MAX transforms concepts into brilliant custom fabrics for fashion, home décor and other textile applications, delivering the highest quality and soft touch with brilliant white and vibrant neon colours. The system features revolutionary XDi technology for 3D décor applications, which can be used to create threadless embroidery, high-density foils, screen prints and other innovative effects. This system, which reinvents the design and application possibilities for custom textiles on demand, is the cornerstone of Kornit's smart, efficient and sustainable Eco Factory production model. It allows manufacturers to cover and integrate more parts of the process, from design to finished product, to reduce carbon footprint, use labour efficiently and produce less waste, while producing the highest quality.
A special treat was the virtual mirror experience. This allowed visitors to virtually try on garments from the latest catwalk collections and see themselves wearing a virtual collection of individual pieces. The mirror captures their movements and attendees leave the stand with a photo of themselves wearing their favourite clothes from selected designers, highlighting the marriage of the virtual and physical fashion experience.

Mimaki
The JV330-160 and CJV330-160 integrated printer and cutter, which made their international show debut at FESPA 2022, offer increased productivity and set new standards in print quality. With workflow efficiency high on the agenda for Mimaki and its customers, built-in cleaning mechanisms and monitoring functions ensure seamless production and enable longer run times. Both models also feature a newly developed unwind system that allows three media rolls to be loaded simultaneously, significantly reducing the time and manpower required to change print media. Another standard feature is an "XY slitter" - a high-precision cutting technology that cuts the sheet in the X and Y axes. This eliminates unwinding and rough cutting in the workflow, helping printers to significantly speed up and streamline the finishing process as fewer interventions are required.
Mimaki's new CG-AR cutting plotter, which goes beyond the entry-level technology currently available in this field, was also showcased.

Mutoh
The new 1341SR Pro and 1641SR Pro sign and display printers could be seen printing live on the stand. With a print width of 1.37 metres and 1.67 metres respectively, and equipped with an AccuFine printhead, higher speeds and accuracy could be achieved. The new AccuFine print head is 33 per cent wider and has eleven per cent more nozzles. The XpertJet 1682SR in a new eight-colour configuration (CMYK, LC, Lm, Lk + O) was also on show, along with others.
SAi
A new version of the Flexi design, print and cut software was presented. Flexi 22 offers a user-friendly design interface with a powerful RIP and many new tools that increase productivity and efficiency, according to the company. DTF and DTG functions open up new application possibilities. SAi Connect provides a central platform for system management.

Sun Chemical
"Solutions in Motion" was the theme at Sun Chemical. The company's goal is to offer special inks for inkjet, screen and textile printing that meet customers' sustainability requirements. Printing examples of SunJet inks for digital inkjet printing, Streamline ink prints in large format and others were on display. The Streamline inks are Greenguard Gold certified and feature an odourless formulation that ensures low indoor emissions.
For sublimation printing, the company has introduced the new ElvaJet Onyx SB inks. ElvaJet Onyx SB is designed to meet market demands for longer print runs between cleaning cycles, while the ink's simple conversion process enables instant printing and easy start-up before or between print jobs. The advanced formula results in improved print performance and ensures maximum system uptime with minimal intervention. The ink range offers Sun Chemical's proven performance on a full range of transfer papers with excellent edge definition and ink transfer, while providing the deepest black tone. ElvaJet Onyx SB is available in 1kg bottles and 2kg pouches to offer printers maximum processing flexibility. The ink offers high colour intensity and image sharpness without compromising system performance and productivity, according to the manufacturer.
Pete Saunders, Global Director, Digital Businesses at Sun Chemical, comments, "With the increasing number of wide format printers on the market, finding the most suitable ink solution can be a challenge. Sun Chemical has invested extensive research and development work to review customer feedback and define a development programme that meets the needs of the textile printing market."
Simon Daplyn, product and marketing manager for Sun Chemical's digital textile inks, added: "With decades of experience in digital printing inks, Sun Chemical is a market leader in ink development and manufacturing. Combined with our extensive knowledge of the textile market and the specific requirements of sublimation printers, we have been able to develop this innovative product range that offers real added value to the market. In addition, ElvaJet Onyx is certified by OEKOTEX for the Eco Passport without any restrictions, which means that all textiles printed with Onyx SB do not need to be re-tested for compliance with the OekoTex Class 100 standard."

SwissQprint
The company brought a surprise to Berlin: Kudu. This is a high-end flatbed printer measuring 3.2 x 2.0 metres which complements the existing flatbed range. A roll-to-roll option is available. It is also part of the fourth generation of printers introduced six months ago. It is very productive and offers ten colour channels (nine on the other models). Users configure the channels according to their needs and can adjust the configuration later at any time.
With a maximum productivity of 300 square metres per hour, the UV printer convinces with a high print quality. Carmen Eicher, Chief of Sales and Marketing Officer at swissQprint, explains: "Kudu features the latest print head technology with an addressable resolution of up to 1350 dpi."
The flatbed printer sits on a newly designed mechanical foundation and uses state-of-the-art linear drives. "This ensures precise droplet placement at such high speeds," adds Carmen Eicher. Kudu, like swissQprint's other flatbed and roll-to-roll printers, features the Tip Switch vacuum. In the case of Kudu, it is divided into 260 zones, which enables the operator to control the vacuum in a very simple and targeted way. Speaking of control: Lory, the output software developed by swissQprint itself, is the cockpit of the Kudu operator. The graphic user interface with the virtual flatbed is designed for intuitive and safe operation.
The newly developed universal ink (Greenguard Gold certified) is available in CMYK, Light Cyan, Light Magenta, Light Black, White, Effect Varnish and Primer as well as in the special colours Orange and Neon Yellow and Pink.
comments