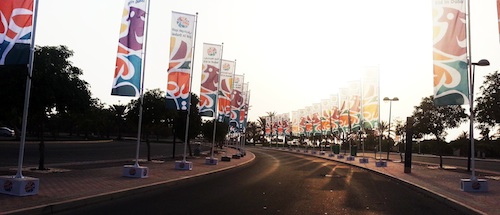 The UAE's most successful large-format printer employs a wide range of equipment to cater to its vast demand for a wide variety of outdoor and indoor applications.
Currently located in the Al Qusais Industrial Area, Colormix is a large-format printing company that is second to none. It operates across the United Arab Emirates and beyond, and according to managing director Nabeel Ali, it features the largest production capacity for indoor and outdoor advertising that can be found in the UAE.

As the large-format display market changes, so does Colormix. From humble beginnings the company has established itself as one of the best-known and highly regarded print service providers in the region employing more than 20 large and very-large format printers. Customers include the local grocery stores, agencies, shopping malls, sport clubs, retailers, schools and universities as well as blue chip clients such as Emirates and Etihad Airlines, Etisalat telecommunications and Emaar property developers.
While large format printing is Colormix's core business, the company offers other services such as as event management and production, mass media advertising, exhibition stand production and graphic design as well as web and multimedia services.
When Nabeel Ali saw a drop in demand for outdoor advertising in the region as a result of the recession, he turned his attention to the indoor market. "You don't concentrate on what you are doing right now but what the market needs", he says. "And this includes all kinds of large-format printing as well as other services."
Matching technology to market demands
To meet market demands, Colormix has invested a variety of printing equipment. As a result, the company has become the vehicle graphics specialist in the region. In fact, the company installs graphics on six to eight vehicles a day.
Colormix uses the EFI R3225 UV printer with 3M media for all vehicle graphics. "The machines gives us the speed we require and the fast-drying UV curing technology enable us to laminate images if need be. In the six months that we've had the printer we've seen a major difference in image quality due to its high resolution and greyscale technology. Not only are our clients happy with the results, but the EFI R3225 also pleases our production managers", says Nabeel Ali. "The learning curve was very easy as we already operate several other EFI VUTEk printers. Printing on the EFI R3225 has increased business as happy customers keep coming back for more and more each time."

Building on its strengths
Colormix operates 24/7 as turnaround time is vital. A variety of printing presses using different inks such as solvent and mild solvent, UV, dye sub and water-based inks enables the company to accommodate most, if not all customer requirements.
The company has a portfolio of printers from different suppliers, among them Gandi and Agfa, but has returned to EFI, the source of its first large-format printers. Nabeel Ali works with EFI Middle East dealer, Saga Digital. "There is an application yet to be found that we cannot produce", he says. Be it flags, banners, vehicle graphics, exhibition stands, roll-ups and pop-ups, promotional tablets, corrugated plastic, one- or two-way vision graphics, billboards, PoS, signs, posters or fabric printing – Colormix prides itself on being able to cater to all its clients.
In its stable of EFI printers you will find the 5-metre VUTEk 5300 and 5330 as well as a six colour VUTEk 3360. Colormix outputs around 20,000 sqm/month. "In addition to equipment, we have also invested in our customer services. This investment in time, effort and skills – which our operators benefit from as well – is paying off. When we enter a new market, first we determine the prerequisites and then we invest. This was also the case when we introduced web and multimedia services to our customers. Nowadays our designers create user friendly interactive presentations, including 3D animation that link with our clients printed advertising campaigns, events, etc. We have also invested in our own servers to facilitate webhosting and support for our client's marketing campaigns. Our highly experienced professionals in the prepress department enable us to offer the complete range of design and advertising services.

"When we got our first EFI large format inkjet printers, the technology was quite new at the time. I myself started with EFI products as an employee and until today, EFI is considered one of the best large-format printer manufacturers worldwide and I can only second this reputation. EFI's machinery helps us to cement our motto "Complete printing and advertising solutions under one roof".
To support this mission Colormix is moving to a new location in Dubai's IMPZ. This will allow Nabeel Ali to expand even further. "We are already looking at additional new technologies and services that we can bring to our customers", he says.
comments