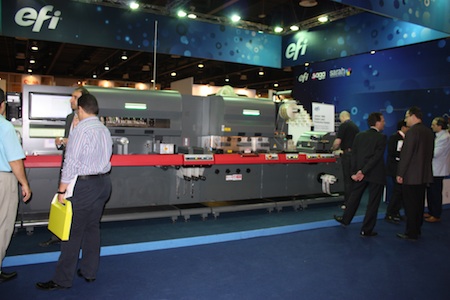 Label printers all around the world are looking for cost-effective short run production of labels. One of the most compelling solutions is the Jetrion 4900 ML label press from EFI.
"We are just introducing the EFI Jetrion 4900 ML into the region and are registering a lot of interest from label printers in UAE and beyond who want to increase turnover times while at the same time experiencing a booming business", says Paul Cripps from EFI.
The versatile Jetrion family lets you to tap into lucrative services, such as shrink sleeves, localization, regionalization and personalized marketing. The systems lower your bottom line by eliminating plates, reducing labor and waste costs, alleviating inventory pressure and shortening turnaround times.
The EFI™ Jetrion® 4900ML label production system combines digital printing and digital finishing in a single system, increasing your efficiency and giving you the lowest cost per label. Go from a print file directly to the finished roll without interruption!
comments