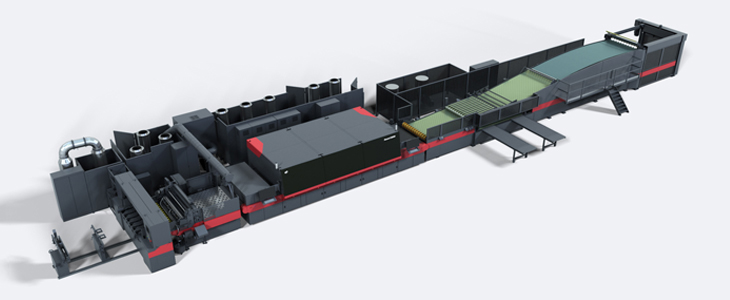 Dr Andreas Kraushaar, head of the Fogra Research Institute for Media Technologies prepress department, certified the EFI™ Nozomi C18000 single-pass corrugated printer from Electronics For Imaging, Inc. as Fogra compliant. The ultra-high-speed, single-pass direct-to-board digital printer passed the Fogra Process Standard Digital Print Check this summer and is the first such printer to do so.

Developed by Fogra, the Process Standard Digital (PSD) represents an industrially orientated and standardised procedure for the creation of digital print products. With a PSD certificate, packaging converters and corrugated display manufacturers using the Nozomi C18000 printer have additional, proven verification of the quality and reliability of their digital production offering. Successful implementation of the PSD can also help Nozomi C18000 users - a group that includes many of the world's leading packaging companies - with reduced manufacturing cost and waste, higher quality and time performance, and better overall sustainability in corrugated production.
This summer, Kraushaar and his research team tested the LED-inkjet corrugated printer at EFI Industrial Printing facilities in Almassora, Spain, verifying the Nozomi C18000 printer's output process control, colour fidelity and workflow. The Fogra team tested against the FOGRA39 standard, as well as the GRACoL®/SWOP standard from U.S. industry association Idealliance®, and determined that the printer successfully passed all the tests and requirements.
"EFI has been an active member of Fogra for many years and contributed to the development of the Fogra Process Standard Digital," said Kraushaar. "That is why I am not surprised to see the Nozomi C18000 passing the Print Check Criteria for both Fogra and GRACoL standards so seamlessly."
The PSD Print Check is part of the ISO/TS 15311-2 based Fogra PSD. This specification allows companies in the print and media industry to prove their ability to create print jobs conforming to PSD. At EFI's facility, Fogra reviewed a typical print job for colour consistency, uniformity, detail sharpness and print run stability, in compliance with the requirements defined by PSD.
"The certification of the Nozomi C18000 printer's output quality by Fogra proves once again EFI's approach to delivering superior quality - which gives customers confidence for day-to-day operation," said José Luis Ramón Moreno, vice president and general manager, EFI Industrial Printing. "This certificate ensures that Nozomi C18000 printer output meets customer expectations in the corrugated packaging and display industry regarding gamut, fidelity, precision and repeatability."
comments