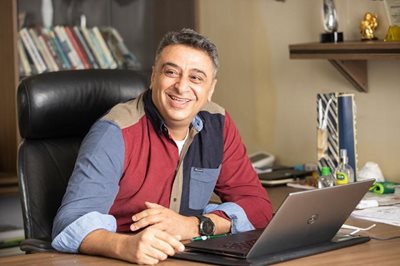 COMBO Blo2Fill plays pivotal role in water and CSD bottling operations. The company has also taken delivery of the first CCMs, strengthening an already solid partnership on the crown cap front. Mr. Ziad Maalouf (Managing Director): "We've gone for the best available technology on the market so we can push ahead with our mission of producing high quality drinks on behalf of the major global brand owners"
Seven-Up Bottling Co. Ltd was founded in Nigeria in 1960, on the same day the country gained its independence from the United Kingdom. Ever since that first bottle of 7Up, the company has grown steadily by remaining faithful to its mission of using the best available technology to package high quality beverages on behalf of the world's most renowned brand owners.
What's more, it also enjoys a rewarding partnership with the SACMI Group, which has been supplying the company with crown cap manufacturing machines for over 20 years (the latest, delivered in 2022, has an ultra-high output capacity of 5,000 caps per minute). That partnership now continues with the recent decision to invest in further development and modernization of the bottling lines, with SACMI-developed technology playing a huge role in 4 of the country's 9 plants (i.e. Ikeja, Aba, Abuja, Enugu and, most recently, Kano). Note that further investments are already in the pipeline.
Mr. Ziad Maalouf (Managing Director) gives us an analysis of the present scenario and future prospects.
Mr. Ziad, which brands does Seven-Up Bottling work for?
"The Seven-Up Bottling Company Ltd is one of Nigeria's largest manufacturing concerns. Our nine factories produce and distribute some of the best known, best loved beverage brands. These include Pepsi, 7Up, Mirinda, Teem, Mountain Dew, H2oH!, Lipton Ice Tea and Aquafina premium mineral water".
How did the partnership with SACMI develop, and what technologies were involved?
"Ensuring our customers get nothing but the best is our number one priority. That's why we've drawn up an ambitious technological/plant modernization plan for all our production facilities. The SACMI range has proved to be a winner as it covers all the various needs of a modern bottling plant. In 2022 we successfully installed and started up four water and CSD lines at the Ikeja, Aba, Abuja and Enugu plants, while a fifth 'hybrid' line is expected to become operational at the Kano site by the end of 2023".
Let's talk about stretch-blow molding and filling. Why did you invest in the SACMI Blo2Fill 'COMBO'?
"We selected this solution after careful assessment of the alternatives. The primary advantage of Blo2Fill is that it offers a unique response to the multiple needs of a modern bottling factory. Another decisive factor was the extremely high productivity provided by the 'dual cavity' option on this solution, both on large sizes of up to 2 liters and on medium-small formats such as 500 ml. In other words, we needed outstanding versatility. However, we also wanted the reliability of a sole partner and a single platform, capable of responding to our diversified needs".
Tell us about the order in more detail.
"Three of the new, already-operational lines are dedicated to the stretch-blow molding, filling and capping of carbonated soft drinks (CSD). Here, the solutions include the SACMI ESF 12/120/20 filler, which delivers output rates of up to 48,000 bottles per hour in the standard 300 and 500 ml formats. The fourth water line, instead, features the AWS 12/60/20 filler. This produces up to 52,000 bottles per hour with small formats (500 ml), 45,000 with medium-sized 750 ml products and 24,000 with the classic 1.5 liter PET water bottles. Last but not least comes the fifth line being supplied to Kano, a so-called 'swing', or hybrid, line for bottling both water and CSDs".
What further advantages have you gained from an integrated plant engineering perspective?
"In this case we need to mention the new SACMI labelers, the market-leading OPERA 400 RF machines. These extremely fast machines are designed to apply up to 60,000 cylindrical labels per hour and feature an advanced handling system that enables the labeler to keep pace with the speed of the bottling line, regardless of the size being produced. In practice, we're talking about extremely powerful labeling machines that are well suited not just to our high line speeds but also, more generally, to the total automation of the entire plant that this sort of configuration requires".
Tell us about the cap lines.
"In glass bottling, we've enjoyed a decades-long partnership with SACMI, which has supplied us with its world-beating crown cap manufacturing machines. The last such order, delivered in 2022, was for a high-speed line producing 5,000 caps per minute. With this latest investment plan, our partnership with SACMI will now be extended to include the supply of two CCM plastic cap-making machines. Once again, we were attracted by their internationally recognized technological leadership and the advantages the machines offer in terms of speed, quality and low consumption".
comments