If there was one trend at drupa, it has been that everything is either going faster or more sophisticated. This is especially true for the large format market where not only quality, but also speeds and exact reproduction are of essence. Sabine A. Slaughter has had a look.
Most large format machines and presses already deliver quite an astonishing quality. However, this still can be improved, especially for applications that fall into the so-called near view category. Many vendors, especially the smaller companies, are enhancing their quality as new and better printheads become available to the market.
In addition, direct printing on textiles is increasing. This market has not yet adopted digital printing into mainstream manufacturing. Apart from quality issues and speeds, costs are some of the main factors this has not happened yet. Several vendors such as HP, Mimaki, Roland DG but also Dilli have been showing solutions that will change this perception. Other vendors such as Konica Minolta via Verga IT srl do have special textile printers in their portfolio but did not show them at drupa. The multitude of machines that can print on textiles – directly or via transfer – is increasing and costs, while still higher than screen printing as coming down. This goes along with an increase in quality and different inks that enable short run production of all kinds of textile products.
Special applications that require certain inks, be it glowing ink, fluorescent ink or application thereof are increasing at print shops. In order to diversify but also to distinguish themselves from the competition print service providers are inventing many applications on different materials. Be it printing on glass, all kinds of vinyl or even water and beer, as could be seen at the Sun LLC booth, marketing requires large format and many different applications in order to be effective. The range of inks is expanded continually with many ink suppliers for third party inks entering the market for those.
Another topic has been the finishing of those products and here we noticed a "newcomer", that before drupa not many people have had on their lists. Topcut bullmer, a German manufacturer, has teamed up with UK distributor assist bullmer and specialist software company Eurosystems of Luxembourg for live demonstrations of a 5.2 m wide cutter called the premiumcut elc. It cuts a range of substrates up to 5 m width at speeds of up to 120 m/min. The scalable system available in width from 1.4 to 5.2 m can cut substrates of up to 5 cm thickness. The range of substrates includes Kevlar, glass fibre as well as textiles, synthetic materials and fabrics. Central to the development has been the introduction of a new drive system with individual motors, plus the inclusion of intuitive optical-alignment technology, called OptiSCOUT7, which enables operators to precision die-cut a wide range of materials quickly and easily. It's provided through Eurosystems, which develops and distributes software for the graphics industry, specialising in the development of routing, engraving and finishing software and hardware. Marc Hasler, Associate Managing Director of topcut bullmer, said: "The premiumcut elc is pushing the boundaries on to new technology levels by combining high cutting production speeds on larger surfaces than rival machines. Existing machines can only cut up to a maximum of 3.2metres width. With its range of tools and on demand upgradability, premiumcut elc is the most versatile machine on the market. "
HP as one of the market leaders has been introducing the new HP FB225 White Scitex ink that can be used on the new HP Scitex FB7500 and FB7600 with white ink kit. HP states that "The new solutions position HP and its customers to take advantage of the 6.2 billion square metre (sqm) opportunity in the sign and display industry, where only 38 per cent of materials are now printed digitally. The biggest potential for growth in this market lies in digitally printed retail and point-of-purchase signage, where 85 percent of pages are printed on analogue and screen equipment. Beyond signage, corrugated packaging represents another growth opportunity with an addressable market of 6 billion sqm for digital printers." Designed to work with HP FB225 process color Scitex inks and HP Scitex FB7500 and FB7600 Industrial Presses, new HP FB225 White Scitex Ink is ideal for a wide range of applications, including backlit signage, window displays and short-run corrugated packaging. The white ink integrates seamlessly with the full set of process colours to produce durable, rich, saturated colour on clear or coloured materials. These presses include extra printhead beams, which allow the white ink kit to be added without sacrificing process colours or image quality. "With the HP Scitex FB7500/FB7600 White Ink Kit, the more than 100 existing HP Scitex FB7500 and FB7600 Industrial Press customers can expand their offerings and create business opportunities by offering new, high-value white ink applications. These presses include extra printhead beams, which allow the white ink kit to be added without sacrificing process colours or image quality", emphasizes the company.
Mimaki reported a successful conclusion to its presence at drupa 2012, the world's leading print exhibition, where the company launched a number of new products. Attendees provided very positive feedback about the Mimaki's new JFX500 series, a next-generation high-speed UV-LED flatbed inkjet printer, the new JV400-LX, a wide-format printer that uses low curing latex inks, and the new JV400-SUV, an inkjet printer equipped with solvent UV ink. Visitors to the Mimaki stand were especially impressed by the quality, speed and low curing temperature of these innovative systems. The unveiling of the new JFX500-2131, a next-generation UV-LED flatbed inkjet printer, was a major attraction at the Mimaki stand. A high-speed, high-quality printing system, the JFX500-2131 offers excellent output – up to 60m2/h in four-colour mode, and up to 50m2/h with white ink – and faithfully reproduces fine details including crisp print as small as 2 points. Its large flatbed – 2,100mm x 3,100mm – enables direct printing on a wide range of materials up to a 100mm thick. And its UV-LED curing unit ensures significantly improved curing-efficiency – high-speed printing is now possible without leaving behind uncured ink. In addition, the low curing temperatures associated with LED curing mean that the printer can handle a wider variety of heat sensitive substrates than printers with normal UV curing.
Roland DG presented the new VersaArt RE-640 printer that enables printing with Eco-Sol MAX inks in widths up to 64". The company touts the main features as being high print speeds and print quality. Particular interest has been recorded in machines that print with metallic, white and transparent ink. The VersaCAMM VS series includes devices that combine printing and cutting and use metallic and white Eco-Sol MAX ink. More than 500 brilliant metallic colours can be created by combining metallic inks with other colours. Although VersaUV LEC devices also offer a combination of printing and cutting, their operation is based on UV LED technology. This dries the ink instantly and the prints can be processed immediately. Apart from standard colours, white as well as transparent ink is available. A relief or structure can be created by printing several layers of transparent inks over each other. Moreover, prints with transparent ink can have a matt as well as glossy finish. The BN-20 desktop printer with cutting function scored well with designers and companies with their own departments for the production of advertising materials, signage etc. Roland exhibited the BN-20 with different inks at the fair: on the one hand CMYK + metallic, and the new configuration CMYK + white on the other. Examples of applications are heat transfers for textiles, labels, stickers, promotional materials, and signage.
Mutoh introduced the new ValueJet 1638W printer. The 64" four color/eight cartridge inkjet printer is designed to use aqueous based and dye sublimation inks. Eight color capability will be available soon. Similar to the ValueJet 1638 Eco version, the 1638W was built for efficient and reliable production for promotional items, trade show graphics, flags, banners, apparel, custom clothing, displays, interior design and more. Designed with staggered dual print heads, the 1638W prints at speeds over 1,000 sqft/hr making it the fastest printer on the market in its class. Blazing speeds while maintaining high-quality prints allows increased output and productivity.
Seiko introduced neon ink for their ColorPainter W-series. Available in yellow and pink those can be printed either as spot colours but also as composite colours with CMWK to enhance chroma of a photo image. The resulting printed image is bright under normal lighting and glows under backlight. The H2-74s in 8 color configuration was also demonstrated. This configuration, including gray and light gray ink, is capable of expressing solid metallic texture, light shadows and real gradations which cannot be achieved with composite color.
Matan has been introducing the new Barak 8Q, a very large format printer that prints in eight colour mode with speeds up to 353 sqm/h. Available in sizes of 3.5 m and 5 m it enables 4 to 8-colour switching for more economical printing as the company states. A flatbed option with automatic loader and unloader enables versatility. Also displayed at Matan's booth is the SprinG3 industrial digital printer, delivering short runs of durable graphics such as labels, decals, membranes, license plates, traffic and other signs.
Dainippon Screen has been introducing the new Truepress Jet W1632UV designed for POP and graphic display applications among others. This new printer provides a high throughput of 94 sqm (1,011.8 sqft) per hour, the best in its class, and supports media sizes up to 1,600mm x 3,200mm (63in x 126in) and a maximum 48mm (1.9in) thickness. The use of 12 picolitre micro-droplet printheads makes the Truepress Jet W1632UV one of the most advanced inkjet systems available for POP applications, giving razor-sharp 1200 dpi text, fine definition and smooth vignettes. In addition, since the Truepress Jet W1632UV supports the use of light cyan and light magenta, the system is ideal for photographic-quality and back/front lit display applications. "The Truepress Jet W1632UV offers the optimum blend of productivity, quality and ROI demanded from the sign and display print market," says Kees Mulder, President, Screen Europe. "Our wide-format inkjet lineup is set to continue to grow to offer a range of devices that precisely address the range of both interior and exterior sign and display applications."
Durst showcased its Rho IP (Industrial Print) engine that the company claims is ideally suited for the production of membrane switches, instrument panels, dashboards, cover plates (e.g. for washing machines) and small items typical of pad printing applications. The modularity of the machine allows for up to 5 ink channels (CMYK plus white) employing 6 printheads per channel. The print engine can be equipped with up to 15,000 nozzles producing a printing speed of 8 seconds per table in single pass mode, or 20 seconds in per table in scanning 4 colour mode including Variable Data Printing, if required. The standard table is 300 x 600 mm. In addition the company demonstrated its new Rho 1000 automated roll to sheet system that prints from a 250 cm wide jumbo roll and cuts the required poster size utilizing an integrated cutter. The system offers a heavy roll device as a solution for high speed long run printing. It consists of an unwinding tool and is equipped with two dancer rollers. It will handle rolls up to a diameter of 60 cm and a maximum roll weight of 600 kg. Print speed is up to 500 sqm/h. The XY cutter can handle numerous types of media with a maximum thickness of 0.8mm. Even if prints are not parallel to the web edge, or the roll is not wound straight, the cutter will follow the image or media edge. The Durst stacker will handle multiple parallel stacks at the same time and load them onto pallets ready for dispatch. In addition the company presented a purpose built version of the Rho 1000 continuous inkjet system for printing on corrugated boards. The system features the automatic feed of sheets, integrated varnishing and automated storage. Even at maximum production speeds, this machine will achieve a standard of quality equal to that of laminated offset printing. Another introduction has been the Rho 320R HS roll-to-roll printer that offers speeds of up to 140 sqm/h in four or six colour mode. It prints large rolls with a diameter of up to 600 mm and a width of 3.2 m (or 2 rolls of 160 cm each). Possible substrates are paper, films, polyester textiles, vinyl among others.
EFI presented the new VUTEk QS2 Pro, a hybrid 2m-printer that combines grayscale print quality with production level speeds. It incorporates a print head that enables 0 – 36 pl drop sizes. The VUTEk HS100 Pro, a UV-curable printer with a width of 3.2 m enables printing at speeds of up to 100 boards per hour. "This next generation EFI VUTEk press should win every side-by-side comparison with existing digital presses in terms of offering the best combination of speed, output quality and return on investment," said Scott Schinlever, senior vice-president and general manager of Inkjet Solutions at EFI. "The printer brings greater flexibility and workflow integration, with streamlined and versatile production on longer run lengths. Combined with advanced production features, warning and detection systems, and the Fiery XF proServer, the HS100 Pro is a true 24/7 solution ideal for the most demanding production environments."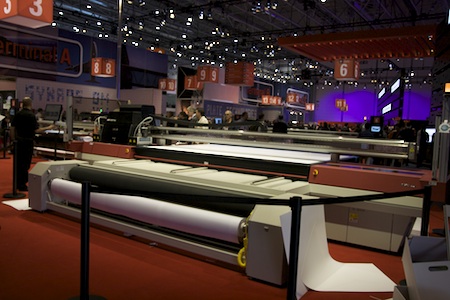 Agfa's :M-Press Leopard that, along with the :M-Press Tiger, represents offset litho and screen-printing speed and quality in a platform which encompasses the highest levels of versatility and output quality. This wide-format industrial press handles rigid and flexible materials up to a maximum size of 1.6 x 3.3m and now offers a choice of manual or auto-loading options. Two models of the UV-curable :Jeti 3020 Titan series, demonstrating different print-head configurations and their adaptability for highly productive ink-jet printing in a multi – application environment. As a 36 head configuration the machine runs in a CMYK-configuration plus highly opaque white ink, showing pre- and post-printing options as well as spot white. In its 48 head version the system was configured with eight sets of CMYKLcLm ink for optimum productivity and quality in both rigid and roll-fed modes. Agfa Graphics' high pigmented :Anuvia UV-curable ink-set combined with a lamp house design which minimizes heat emission to the media and table surface, allows for printing thin and heat sensitive substrates. The inks have a very wide gamut, which matches or exceeds industry targets, so that color standards are straightforward to achieve, maintaining correct saturation whilst retaining low overall consumption.
See more images on large format printers from drupa here:
{gallery}shows/drupa/lfp{/gallery}
comments