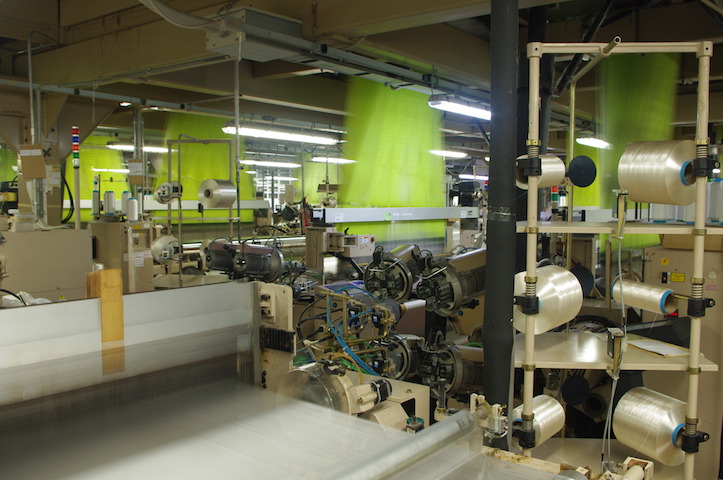 Gi.Tessil Foderami, a company specialising in the production of "Made in Italy" linings, has added a first-of-its-kind TX300P-1800B digital textile printing system from Mimaki to its fleet of 28 Jacquard weaving machines to give it a quality edge over its competitors.
Product and service quality are the distinguishing features of Gi.Tessil Foderami, a specialist in linings "Made in Italy". By using state-of-the-art technologies and sustainable raw materials, the company has succeeded in establishing itself as one of the main suppliers of jacquard linings in Europe - with renowned customers such as Armani and Max Mara. In this strong, highly competitive position, consistently oriented towards the latest market developments, one last element was missing to gain a quality edge over the competition - the increasingly sought-after in-house lining personalisation. This gap is now filled by the new TX300P-1800B digital textile printer from Mimaki.
Development of the company
Gi.Tessil Foderami, a third generation family business with over sixty years of history, specialises in the production of plain and jacquard linings. Based in Crosio della Valle in the province of Varese - not far from the Digital Textile Valley in northern Italy - it pursues a strategy of continuous growth that is all about diversification and international development. "We started on a purely national level with a very simple product portfolio consisting mainly of smooth linings. Now we operate throughout Europe with a wide variety of complex processed products, such as stretch, printed fabrics and jacquard," reports Paolo Giamberini, owner and CEO. With a continuously growing distribution network, Gi.Tessil Foderami is now present almost everywhere in Europe - especially in Germany, France and Northern and Eastern Europe. Ecological and social responsibility is also a priority. In addition to a range of OEKO-TEX® certified products, the company is FSC certified and a licensee of the Seaqual brand. It is constantly researching and testing recyclable materials such as polyester, cork and paper.
In terms of production, specialising in jacquard technology was a first important turning point in the company's history: "We are known for our jacquard linings, which offer a high added value compared to conventional fabrics. Over the years, we have invested a lot in this technology, so that our machine park now boasts 28 Jacquard weaving machines. This interest in cutting-edge technology then also drew our attention to digital printing. Early on we recognised its importance and its very special potential for our core business."
In order to meet the ever-increasing demands of its main target market - men's and women's garment manufacturers - Gi.Tessil Foderami has continued to invest in its service offering, which is now widely recognised for quality, flexibility and on-time delivery. The company's philosophy of testing new, innovative technologies to maintain the highest standards has now led to another major step forward - the investment in digital textile printing.
Digital printing as a game changer
"In our work with jacquard technology, original, varied patterns have always been part of the equation. Now, with the trend towards personalisation, another switch was needed," says Giamberini. "As a weaving mill, we initially had no experience with printing. If necessary, we called in external printing service providers, but this affected delivery times and thus the service. So the decision was made to take action ourselves and incorporate print technology into our production process."
After sifting through several digital printing solutions on the market, the choice fell on Mimaki's TX300P-1800B - a direct textile printing system with automated blanket feed and suitability for pigment inks, which Gi.Tessil Foderami purchased from Mimaki Bompan Textile. "One of the factors that tipped the scales was the ease of use of this solution," says Gianluigi Girola, head of R&D and digital printing at the company. "And indeed: right from the start we met all customer requirements with it, even though we had no previous knowledge of digital printing. Initially, we experimented a lot with the printing parameters, with Mimaki Bompan Textile providing us with competent support. The company's webinars were also a great help."
Installed in summer 2019, the Mimaki TX300P-1800B is a strategic element in the production process, proving its worth in sample production, short runs of a few hundred metres and highly personalised one-offs (5-10 metres). Many customers provide their own designs, and hundreds of other inspirations are contributed by a self-created sample book with a wide variety of materials. Girola continues: "The TX300P-1800B makes us extremely fast. The print file is quickly created and implemented according to the design supplied or taken from the sample book. Delivery times of twenty-four hours are not uncommon." Efficient graphic design, high production speed and impressive print quality combine to create considerable added value from the customer's point of view: "With the Mimaki printing system, we have become our customers' sole point of contact when it comes to linings. This is a significant advantage over our competitors who have nothing comparable to offer."
The decision to use the printing system with pigment inks from Mimaki was also essential for the short production times. This eliminates the need for pre- or post-treatment of the fabrics. "The pigment inks are an ideal fit for our operational requirements," Girola states. "The process is straightforward, offers the high quality our customers expect and is suitable for really all fabrics in our range - from silk to viscose to mixed fabrics with viscose or acetate."
After the first few months with the Mimaki TX300P-1800B, Paolo Giamberini draws a balance of success: "In terms of the range of applications, we have not only achieved our original goals, but even exceeded them. In addition to on-demand printing on our own fabrics, we can also apply very similar motifs to materials supplied by customers - and in completely new areas of application, such as protective masks, which are currently in such high demand." This results in considerable earnings opportunities and future potential, which Giamberini sums up as follows: "The Mimaki TX300P-1800B digital printing system is extremely flexible and versatile. We have not even fully utilised its production potential of an estimated 14,000 metres per year, which is mainly due to two factors - the time required to introduce our customers to this innovative technology and then, of course, the COVID 19 crisis, which has delayed the entire project. So we haven't even been able to officially present our sample book yet. But every crisis passes, and when it does, I think we'll be looking at another investment of this kind very soon."
comments