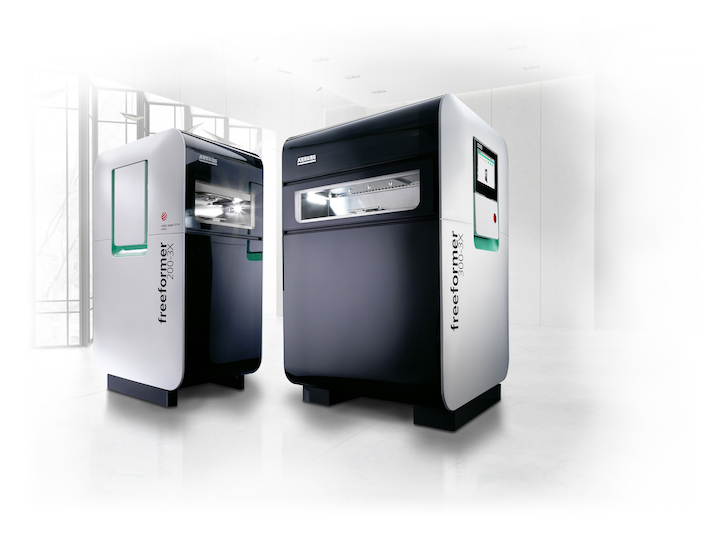 • Arburg Inc. signs contract with Würth Additive Group
• Renowned sales partner for US and Canadian market
• Freeformer as an important addition to the Würth Additive Group portfolio
On April 19, the US subsidiary Arburg Inc. signed a contract with the Würth Additive Group. This is one of the world's leading companies in the field of "supply chain efficiency" and is now a partner for the distribution of the Freeformer in the USA and Canada. This national agreement extends the reach of the Arburg Plastic Freeforming (APF) in this region into the general manufacturing market as well as to the oil & gas, heavy equipment and transportation industries.
Thanks to its extensive expertise and high-quality portfolio, Würth Additive Group is a major player in the AM industry, making it an ideal partner to offer Arburg's Freeformer technology," said Friedrich Kanz, Managing Director of the Arburg subsidiary in the USA. Gerry Berberian, National Sales Manager for Additive at ARBURG Inc. added: "We are pleased to work with Würth Additive to bring the breakthrough APF process to a wider community of manufacturers across the nation."
Arburg partnership is an important milestone
"The Freeformer and APF process allow us to open up completely new possibilities in the field of industrial additive manufacturing," said AJ Strandquist, chief executive officer for Würth Additive Group. "Our customers will benefit from the adaptability of the Freeformer, as it is an open system and allows for maximum customization through an extensive materials database. Furthermore, APF process fills the gaps we previously had with customers who use material with additives. Now we can provide support in every avenue they need to be successful. The addition of Arburg's Freeformer to our portfolio takes our AM service to a higher level."
"We are excited to continue to grow our strategic AM supplier portfolio by partnering with Arburg," said Dan Hill, chief executive officer for Würth Industry North America. "The formation of our new company, Würth Additive Group, was critical as we continue to deliver and expand on enabling, implementing, and supporting digital supply chain solutions that are dependable and beneficial for our customers to operate and ultimately supply them with process and cost efficiencies."
Economical APF process reduces parts costs
The unique APF process has been on the market since 2013 and works on the basis of plastic granules. The open system and the extensive materials database enable customers to utilize their current production materials to create prototypes or move straight to small series production with additive manufacturing. The Freeformer 200-3X and 300-3X can be used to additively manufacture thermoplastic components from one or multi materials. Thanks to the processing of conventional plastic granules as stock material, part costs are a fraction of what is typical in the AM industry.
comments