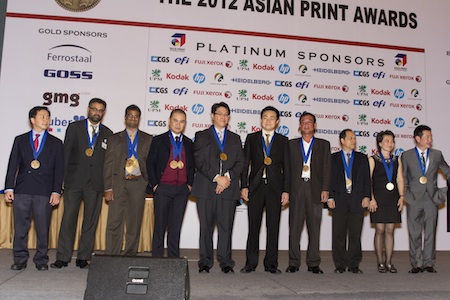 In 2011, the Land of Smiles trailed behind China by one award. This year, it overtakes the Republic with an astounding 23 awards. Hongkong takes 2nd place with 12 awards. Christel Lee from PrintPackPublish Asia reports.
It is also the 10th anniversary for the competition, where Asian contenders vie for the prestige and recognition of excellence in print. Some 500 industry professionals congregated at the Resorts World Sentosa, Singapore, for the annual Asian Print Awards Gala Night.
Sirivatana Interprint PCL and Space One Co., Ltd (Thailand-based printers) each bagged three awards. One glaring trait of Thailand's report card this year is a total of 12 Silvers and 12 Bronzes respectively. Sirivatana Interprint PCL won not only a Gold in the category of Embellishment, but also Gold East Paper's Judges' Award.
China, the Republic dominant in their own turf with offset; had Dongguan Yinxin Printing Factory, Everbest Printing Co., Ltd and Toppan Leefung winning. Making Hongkong extremely proud are big boys such as C & C Joint Printing (HK) Co., Ltd, Standard (Chan)'s Co., and Jinda Holographic Printing Company Limited. C & C Joint Printing (HK) Co., Ltd's entry of Birds of America won not only a Gold in category for Book Printing and Heidelberg's Best in Sheetfed Offset Printing.
It is also the inaugural addition of Digital Outdoor, Large Format & Signage Category. Hongkong-based Standard (Chan)'s Co snagged a Gold, Singapore-based BusAds Pte Ltd in its maiden participation won a Silver, while renowned Indian printer, Prince Digi Graphics received a Bronze.
The years have observed fierce contenders vying for positions in the competition. For Digital Categories, the battle was between Subur Printing and Book & Story from Indonesia. In 2010, Vincent Kusuma, from Book & Story, submitted only one entry and bagged a Gold. Unfortunately or otherwise, fellow powerful contender who is a known regular winner dethroned them in 2011, sending Kusuma down to top two positions. In 2011, the company won two Silvers and one Bronze.
However, this year, Book & Story emerges as an uncontested winner in the competition. It won two Golds in the book printing category for digital, and the category of multi-piece productions and campaigns. In 2011, the company scored in book printing, calendars and the packaging categories for digital.
Indonesia is not the only country to have experienced the effects of turning tides. India's Prince Digi Graphics met a worthy contender from Hongkong, Jinda Holographic Printing Company Limited, who successfully dethroned them for the Innovation Trophy. Prince Digi Graphics has a track record for winning Sponsor Awards year-on-year. In 2011, the company won Kodak's Innovation Trophy.
One can conclude this episode of turning tides is a reminder things are extremely fluid in the competition. You may be a Gold winner this year, it's everybody's guess if you remain in top positions or get ousted.
The Asian Print Awards also honoured Major Wong, who has been with the Judging Panel for ten years straight with a Lifetime Achievement Award. Major Wong is a Judge based in Singapore who has been with Asian Print Awards.
comments