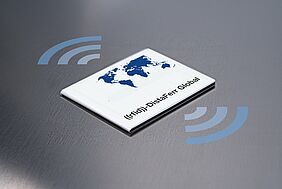 Electrification in vehicles is one of the major trends of the 21st century. For the automotive industry, this means that even more electronics, control units, sensors and antennas are installed in a vehicle. The automotive industry is therefore increasingly relying on RFID identification solutions in logistics and production. These are used, for example, on reusable transport containers for the seamless recording of electronic components along the entire supply chain. With the ((rfid))-DistaFerr ESD, Schreiner ProTech offers a label for container identification that was specifically designed for ESD containers of all common types and antistatic levels.
More and more companies in the automotive industry are looking into the use of RFID in logistics. The future will see containers equipped with RFID labels that allow for complete bulk collection. They also guarantee complete batch tracking at container level and enable optimized empties management through real-time inventory information. Special containers made of ESD materials are used. Because: Electric charges are a major hazard when transporting electronic components. Even slight friction or induction can destroy a printed circuit board. ESD containers dissipate charges and thus protect the electronic components they contain. The disadvantage: conventional RFID labels do not work optimally on ESD materials, which considerably limits the range.
The solution: By using special materials, the ((rfid))-DistaFerr ESD label can also be used optimally on ESD materials and is robust against aggressive substances as well as weather and washing resistant. Thermal transfer printing and programming is possible directly at the customer's site.
Optimal reading range on ESD materials
ESD containers that are driven through a gate on a forklift truck must be able to be captured in bulk. The reading ranges of standard RFID labels are not suitable for this. The ((rfid))-DistaFerr ESD label in the LongRange version has a particularly high reading range of up to six meters.
RFID labels for container management
- ((rfid))-DistaFerr SL2 (UHF) for use on metal containers
- ((rfid))-DistaFerr Global for worldwide use on metal
- ((rfid))-PolyTrack family: various labels for application on plastic substrates
Frank Linti is Business Development Manager RFID at the Competence Center Schreiner LogiData. As part of the AIM Expert Forum in Forum C in Hall 4 at LogiMAT 2020 in Stuttgart, he will give a presentation on "RFID-optimized supply chain processes - automated, comprehensive IoT tracking solutions for reusable containers" on March 10 at 2:50 pm.
He will also be available for a personal discussion before or after the lecture.
comments