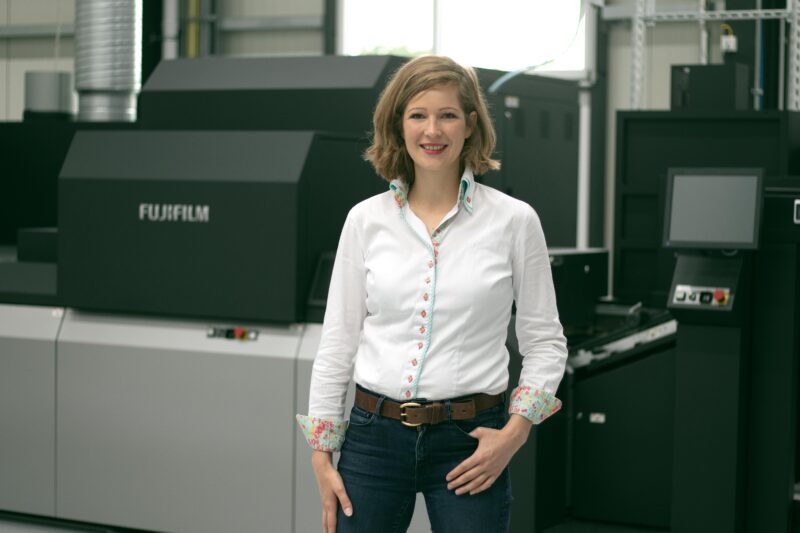 The German printer cites affordability, water-based inks and sustainability as key factors in its investment in the B2 inkjet press.
Based in the German district of Emsland, lower Saxony, Goldschmidt is a third-generation family company that prints a wide variety of applications. From brochures, books and calendars to business cards, direct mail and large format – Goldschmidt has been a leader in print for over 70 years. In recent times, the company has worked to adapt to the increase in demand for personalised print and in May 2021, it celebrated the arrival of Fujifilm's Jet Press 750S.
"Our business offering is incredibly diverse," says company CEO, Vera Goldschmidt. "We offer print solutions for a wide variety of markets and we have noticed a big increase in the number of requests for personalised print from our customers, and short run print more generally. In fact, this has been a growing trend in the last few years and we have restructured our business to adapt accordingly. Three years ago we made changes to enable us to anticipate these growth trends, rather than react to them."
To help the company stay true to its aims, Goldschmidt has looked to invest in print technology that offers high quality and reliability, while also supporting its sustainability goals. In May 2021, Fujifilm's Jet Press 750S answered the call. "In 2019 we were looking at B2 inkjet presses," continues Vera. "I had noticed a B2 inkjet comparison article in a magazine and spotted the Jet Press – its statistics immediately jumped out at me. I watched some videos online of the machine, noticed the quality of the print and decided to take a closer look.
"We looked at other B2 inkjet presses around the same time, but it was clear to us that the Jet Press was the best solution. Not only was the pricing structure inviting and the print quality excellent, but the water-based inks and sustainability credentials were also important to our decision. We are heavily focussed on our carbon footprint and the impact print can have on the environment – it's very important to our customers too – so when we saw the environmental benefits of the Jet Press, it was an easy decision for us."
The Jet Press 750S was installed in May 2021, with Goldschmidt utilising it primarily for brochure, book and calendar printing – taking work off other equipment in the process. "In terms of B1 format printing, we did have an offset press for that, but we sold it after we found the Jet Press offered superior quality and was so much more affordable to run.
"News of our investment has also got round to our customer base. In fact, we've recently been speaking to companies in the arts and exhibition industries who are interested in receiving high quality catalogues printed on the Jet Press.
"The machine will form a crucial part of our business expansion. We have recent moved into new premises in Werlte – it's a more modern facility, so the Jet Press will fit right in with what we do there."
Vera also has glowing praise for the Fujifilm team: "They are a very pleasant group to work with. They are always available and very helpful, to the extent that we look at them as a partner rather than a supplier."
Taro Aoki, head of digital press solutions at Fujifilm Graphic Systems Europe says: "Goldschmidt is a prestigious business with a proud history in print. It relies heavily on its equipment to provide its customers with the highest quality solutions and we're delighted that they've seen early success with the Jet Press. Personalised print is becoming increasingly prevalent and we're looking forward to seeing what innovations they create moving forwards."
www.fujifilm.eu
comments