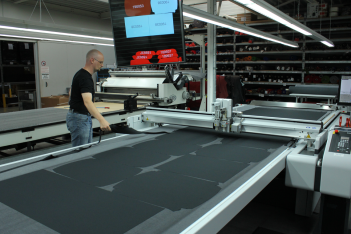 The Zünd G3 L-3200 cutting system helps well-known furniture manufacturer Girsberger reduce processing times and material waste.
Lean Processes
Girsberger, located in Endingen in southern Germany, designs and produces custom furniture solutions, dining and office seating. With a rich, 125-year history, the company has been determined to keep its value-added activities completely in house – from idea and modeling to finished product. A great deal of the production workflow involves manual labor. To create leaner manfacturing processes without eliminating value-added work, Girsberger decided to invest in a Zünd digital cutting system.
Greater cutting flexibility
With the implementation of the Zünd G3 L-3200 cutting system, Girsberger's production workflows have become significantly more streamlined. "Our production is now exclusively 'just in time', without any buffer stock", explains Production Manager Philipp Frank. In the past, all cut parts for a specific chair model were pre-cut for an entire week's worth of production. Now we cut parts independent of the model in one run, which has led to dramatic reductions in processing times. "With the Zünd cutter, we are now a lot more flexible in our cutting and can adjust much faster to any changes. Our entire production has become noticeably leaner and more fluid," adds Frank.
Optimal material usage
State-of-the-art nesting functions ensure that the parts are optimally placed on the material. This maximizes material usage and keeps waste to a minimum. Philipp Frank is particularly impressed with the Zünd cutter's flawless material advance and impeccable cut quality. "The material is fed onto the machine completely without tension or distortions. For woven mesh especially, with its characteristic linear structure that imposes very tight tolerances, cut quality and precision are absolutely critical. And this is precisely where the Zünd cutter delivers truly impressive results."
Philipp Frank, Production Manager: "Our nesting capabilities with the Zünd production workflow help us achieve approximately 10% in material savings over using a high-ply cutter. This alone means we will amortize our Zünd cutter in two years' time."
www.zund.com
comments