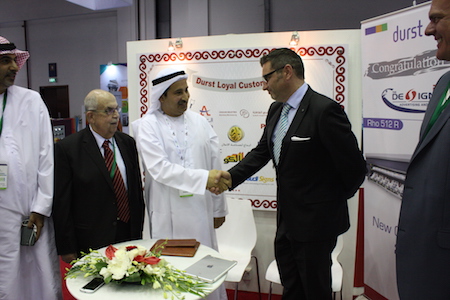 In future, The Designer Advertising and Publishing (DNA), an ISO 9001:2008 certified company in Abu Dhabi, will count the Durst RHO 512, a 5 m wide inkjet printer with Variodrop technology, among its fleet of machines.
The print shop a Musaffa prints indoor and outdoor applications on roll-fed and rigid materials whereby the new RHO 512, featuring a drop size of 12 picoliters and 900dpi resolution achieves a speed of up to 350sqm/h. The Rho 512 from the Tyrol manufacturer that alone in its R&D department for ink development employs 30, and that is active in 5 divisions, uses multiple impluses for modulating the droplet size.
At DNA the printer will be employed to print mainly on mesh materials, as Laith Al Taei, Chairman from DNA explains. "For us, reliability of the printer was a descisive factor as well as its size. In addition, we are very confident as to the very good service Giffin Graphics, distributor of Durst products in the region, offers its customers. Our clients require high quality printing for all their products and that's what the RHO 512 offers us."
"The Rho 512 is a very cost-effective inkjet press that not only enables printing of up to 5 m wide substrates but also can process three 1.6 m wide media at the same time", Christoph Gamper, CEO Durst Group, adds. "Our worldwide install base covers 4,700 active machines."
comments