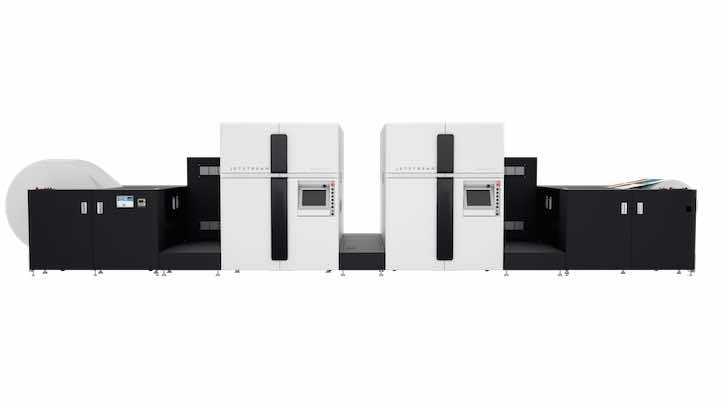 At Hunkeler Innovationdays, the company showcases the Océ ProStream 1000 continuous feed inkjet press, the Océ VarioPrint i300 sheetfed inkjet press and the Canon imagePRESS C10000VP sheetfed toner press as well as introduces the Océ JetStream Graphira. More important however, is its approach on how using the emotional power of print can help customers develop and achieve business success. By Sabine Slaughter

Nowadays it is "not enough to talk to service providers", says Peter Wolff, Vice President PPP EMEA Commercial Printing, Canon. Therefore the company does more and also talks to the customers of customers in order to educate and make everyone aware of the possibilities digital print offers. High-value enhancements enable new services, applications and business opportunities that reflect in improved profits.
Peter Wolff, Vice President PPP EMEA Commercial Printing, comments, "Many brands are struggling to engage with customers through digital channels alone. Thanks to digital print technology, print is helping to fuel emotional engagement with consumers through different formats and more customized content that can be created in almost real-time. Marketers can now run dynamic brand campaigns and book producers can develop tailored content using the insights they have about their customers. We're working closely with our customers to demonstrate how print can offer added value and open up new growth opportunities."
To demonstrate print's leading role in any multichannel marketing campaign, Canon is producing printed promotional communication and merchandising assets to support the coffee table book 'Speed'. It demonstrates in a visually compelling manner how brand owners and content publishers can fuel emotion with print.
Peter Wolff concludes, "At Hunkeler Innovationdays, we're here to fuel our customers' vision of how automation can be part of their business success story. Our close collaboration with expert partners such as Hunkeler creates intelligent end-to-end solutions that are critical to improving efficiency and profitability. More importantly, automation is enabling new business models that allow our customers to be more creative and offer exciting new products and services that address changing market dynamics, from a single 'book of one' to completely individualized mailers that redefine contemporary direct marketing."
Océ JetStream Graphira press
Canon introduces the latest edition of the Océ JetStream Graphira continuous feed monochrome inkjet production press, designed to meet the needs of high volume book producers looking for high quality at faster speeds up to 254 meters per minute. The press works with new Graphira inks, which deliver deep blacks and smooth shadings and are optimized for improved droplet generation, resulting in superior and stable long-term print quality. The Océ JetStream Graphira also offers reduced ink consumption for less demanding jobs and improved cleaning performance for minimal operator intervention.
Inline finishing with various partners
Consistent with the event theme of 'Success with automation', the Océ VarioPrint i300 is working inline with the newly launched Hunkeler DocuTrim cutsheet finishing solution. The multifunctional workflow will enable customers to automate cutting, perforating, and sequential stacking. This gives customers the flexibility to produce a wide variety of applications, including high quality direct mailers and magazines, while achieving optimal productivity for increased operational efficiency.
"Hunkeler is entering the fast growing inkjet sheet market with new UNIVERSAL SHEET PROCESSING solutions", says Michel Hunkeler, CEO Hunkeler AG. "The first product in that portfolio is the DocuTrim. This unique system reduces the processing and finishing time by cutting, dynamically perforating, collating and stacking of documents inline in one process step with the digital printer. We are happy to work with our long standing partner Canon to showcase the DocuTrim inline with the Océ VarioPrint i300 at Hunkeler Innovationdays 2019."
The Océ ProStream runs inline with the Hunkeler Generation 8, a finishing line for cut-to-stack production, delivering applications such as posters and magazines in real-time, while other pre-finished applications including customized mailers are also on display.
The Canon imagePRESS C10000VP with inline booklet maker on show demonstrates the device's outstanding media handling capabilities. To date, the sheetfed toner press has more than 1000 successful customer installations in the EMEA region.
Enhanced capabilities
Canon has enhanced the Océ ProStream with the addition of a new optional Inline Quality Control system enabled by a high-speed camera. This new option provides print quality feedback based on dedicated detection patterns and automatically initiates compensation measures, ensuring superior print quality and minimizing waste and operator intervention.
In addition to handling dynamic variable format lengths, the Océ ProStream can now work with an even broader range of media, supporting papers up to 300 grams per square meter, due to an enhanced paper transport and drying station.
Prisma workflow solutions
All Canon's live demos are supported by PRISMA workflow solutions – a versatile and intuitive portfolio of workflow software that addresses the print production demands of industrial customers, from data input and pre-press tasks, to production management and workflow design. PRISMA workflow solutions enable customers to take full advantage of automation across the entire workflow.
comments