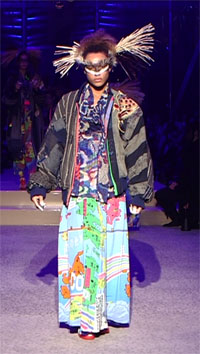 State-of-the-art digital textile printers used to create spectacular designs
Kansai Yamamoto was the first Japanese designer to show in London in 1971. Since then he has become known for his avant-garde designs, sculptural tailoring and use of bright colors and patterns. His production of 'super-shows' combine fashion with music, dance and entertainment on a large scale and have taken place in locations as varied as Red Square in Moscow, Nehru Stadium in India and Tokyo Dome. His signature designs include a Tokyo pop jumpsuit and a one-shoulder knitted piece worn by David Bowie.
Yamamoto approached Epson after seeing samples of Epson's digitally printed fabrics, and teamed up with Epson for his show "Fashion in Motion: Kansai Yamamoto" held at the Victoria & Albert museum in London in 2013. Delighted with the result of the collection printed by Epson, he decided to team with Epson again for his recent "HELLO ISTANBUL!!" show.
Epson printed around 15 of Yamamoto's designs on its state-of-art digital textile printers amounting to about 800 m2 of textiles including special-featured polyester, nylon and cotton. Combining traditional Japanese esthetics and ultra-modern styles, Yamamoto's magnificent creations were largely printed onto polyester fabrics using Epson SureColor SC-F7100 series dye sublimation printers, and nylon and cotton fabric using the Epson SurePress FP-30160 direct-to-garment printer, and the Monna Lisa. Epson's unique inkjet printing technologies allowed Yamamoto full control over his creation process and ensured that the designs were faithfully reproduced with spectacular results.
Some of Yamamoto's creations were made in traditional ways. One example is "boro," which is made from many pieces of old and torn cloth stitched together. "I used hand-dyed indigo cotton cloth made before the Second World War from the Tohoku region once, but it was very expensive," said Yamamoto. It took a couple of months and considerable cost to complete the "boro" line in his collection.
Using the latest PrecisonCore printhead, the Epson printers allowed Yamamoto to print complex and elaborate designs such as "boro" that many had believed impossible to print. The 720-dpi resolution allowed accurate dot shapes and placement, superior print quality and tonal depth. "It changed my expectation for printing. Designs often look flat and pale when you print them. However, with Epson's digital textile printers the designs looked vibrant and three-dimensional on fabrics such as velvet and organdie," said Takaya, an executive designer at KANSAI YAMAMOTO Inc.
Color performance is critical in the fashion business. "The designs printed by Epson are full of brightness. I can't accept colors that are pale and dull," said Yamamoto. Various kinds of fabrics were used for this show including crushed velvet, organdie, sports mesh, parachute cloth, cotton, and nylon. Epson's original inks were specially formulated to ensure optimum color and quality with a wide range of different fabrics. Takaya commented, "The colors on the crushed velvet were especially breathtaking." The colors were recreated using UltraChrome DS Inks specially developed for dye sublimation, Genesta Inks for the Monna Lisa textile printing system, developed by F.lli Robustelli of Como, Italy, and using Epson's inkjet technology, and the Epson SurePress FP-30160 digital industrial textile inkjet printer.
Quick-turnaround is another critical factor in the fast-paced fashion business. Compared to analog printing, there is no need to make special plates or screens. This ensures that the turnaround times for digital printing are reduced to a day to a week compared to a couple of months using conventional methods. Yamamoto used the advantage of digital printing to change and refine his designs up to the very last minute before printing. "I can do digital printing using Epson while I am having a cup of tea," said Yamamoto. Epson's PrecisionCore printhead boosts productivity thanks to high-density 720-dpi nozzles that can each fire up to 40,000 ink droplets per second. The SurePress FP-30160 and SureColor SC-F7100 series deliver both high throughput and amazing image quality at speeds of 35 m2/ hour and 58.9 m2/ hour respectively in default modes. Their ability to deliver spectacular print results without sacrificing speed perfectly fits the needs of designers such as Yamamoto.
Yamamoto also appreciated the ability of the Epson digital printers to facilitate small-lot production of haute-couture. Each of the 15 designs was printed on fabric ranging from less than 5 to over 20 meters in length. "There is a huge potential for digital inkjet technologies in fashion," said Yamamoto. "There are endless possibilities for Epson's technology and I believe there is no end to their innovation."
www.epson.com
comments