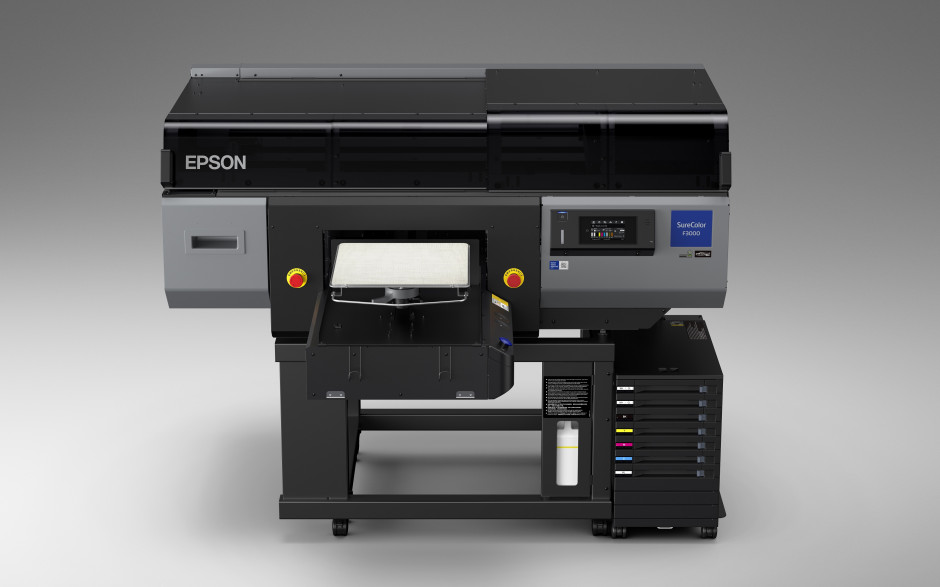 SureColor SC-F3000 offers textile suppliers high-quality prints with high reliability and flexibility
With the new SureColor SC-F3000, Epson is introducing a direct-to-garment (DTG) printer that offers medium to large garment print service providers and T-shirt manufacturers a printing solution with low total cost of ownership. Companies looking for high precision, speed and the ability to flexibly print complex designs on a wide variety of garments will appreciate the high efficiency and reliability of the new SureColor. The new SureColor SC-F3000 will be available from June 2020 at qualified specialist retailers.
The SC-F3000 is the first Epson extra large ink tanks. The 1.5-litre ink bags used in the device contribute to a reduction in total operating costs and downtime. To round out the intuitive, robust design, Epson has incorporated features that allow even inexperienced users to work efficiently over long periods of time without sacrificing print quality and reproduction accuracy:
Easy to install
4.3-inch LCD touch screen with high functionality
Automatic adjustment of the required print head height with sensors that measure the elevations of the clothing surfaces, so that it is easy to switch between T-shirts, hoodies, bags, sweatshirts and others
High print quality through improved ink drop placement technology
Easier access to the maintenance area, e.g. for changing consumables
Frank Schenk, Head of Professional Graphics and Industrial Printing at Epson Deutschland GmbH, says: "We listened to our customers and took their comments on board. This feedback is the driving force behind our innovation and that is why they have played a major role in the functionality and design of the new SC-F3000. We have therefore not only made this DTG printer particularly user-friendly, but also designed it for high performance with fast printing. This makes economic and creative sense for companies that want to have complete control over the quality of their end products. For us, it is important that users do not have to worry about their production tool. They should simply be able to rely on the SC-F3000 every time they switch it on. We achieve this by Epson providing all the components for a complete workflow solution. All the essential components of the system, such as printers, inks, software and support, all come from a single source and are therefore perfectly matched to each other".
The SureColor SC-F3000 is available from June 2020.
comments