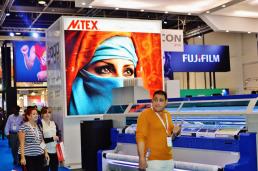 As per reports printing revenues in MENA is pegged to grow at 7.2% per annum to reach $26 billion by 2018
International Expo Consults (IEC) part of Falak Holding, stated that the printing industry in the Middle East and North Africa (MENA) region will continue to witness rapid growth due to the growing infrastructure and associated developments. As per the Smithers Pira report, the total printing revenues in the MENA region were US$17.6 billion in 2012 and are forecast to grow 7.2% per annum reaching US$26 billion by 2018.
"Print media has a strong turnover in the MENA region with a surge in printing of books, periodicals, magazines, newspapers, large scale banners and other materials. Commercial printing is finding inroads into ever growing sales and revenues regardless of the fact that there is a paradigm shift to alternative technology. This technology fad in terms of digital or electronic books and online communication has taken prominence but cannot scale the popularity of the printed tangibles as yet. Print industry is set to reach new heights with steady popularity of conventional large scale printing and the augmentation of online technology," said Mr. Abdul Rahman Falaknaz, Chairman of International Expo Consults.
Another facet of the printing industry - the textile printing industry in the country, is set to gather momentum as UAE stands as the world's fourth largest trading centre of textiles, generating an approximate US$17.5 billion annually. Screen printing continues to hold a major share of the global textile printing market, in terms of production volume of printed textiles.
"One of the finest inventions of all times gifted by Johannes Gutenberg is undoubtedly the printing press which has seen ingenious innovations throughout decades. It would be really difficult to imagine a world where we do not have books, magazines or newspapers to enlighten ourselves. New technologies have been boosting the process of printing, thereby helping GCC countries to expand their domestic industries. There has been a notable diversification among printing companies which are depending on value added services such as packing, shipping, signs and graphic design," added Mr. Falaknaz.
SGI Dubai 2015, an official DSF event welcomed over 400 global exhibitors from across 34 countries and registered over 12,781 trade visitors from 78 countries during the three days during January this year The 'SGI Dubai 2016' show will be held from January 10th to 12th at the Halls 3, 4, 5, 6, 7 and 8 at the Dubai World Trade Centre.
"The increasing specialisation of the UAE's printing sector has seen a tremendous progress in the creation of new jobs. The printing industry has spiralled from a meagre amount of printers a few years ago to a substantial amount of printers seen today. SGI Dubai 2016 is the platform which can deliver the best kept printing technology secrets to industry stakeholders and budding entrepreneurs alike in the MENA region," concluded Mr. Falaknaz.
SGI Dubai is an ideal converging point where visitors and exhibitors can reach out with architects, sign makers, print and production manufacturers, media agencies, real-estate developers, brand and image consultants among others. The event is a deep-rooted 18 year old business forum which is recognised globally and constitutes workshops and seminars held by industry experts.
www.signmiddleeast.com
 
comments