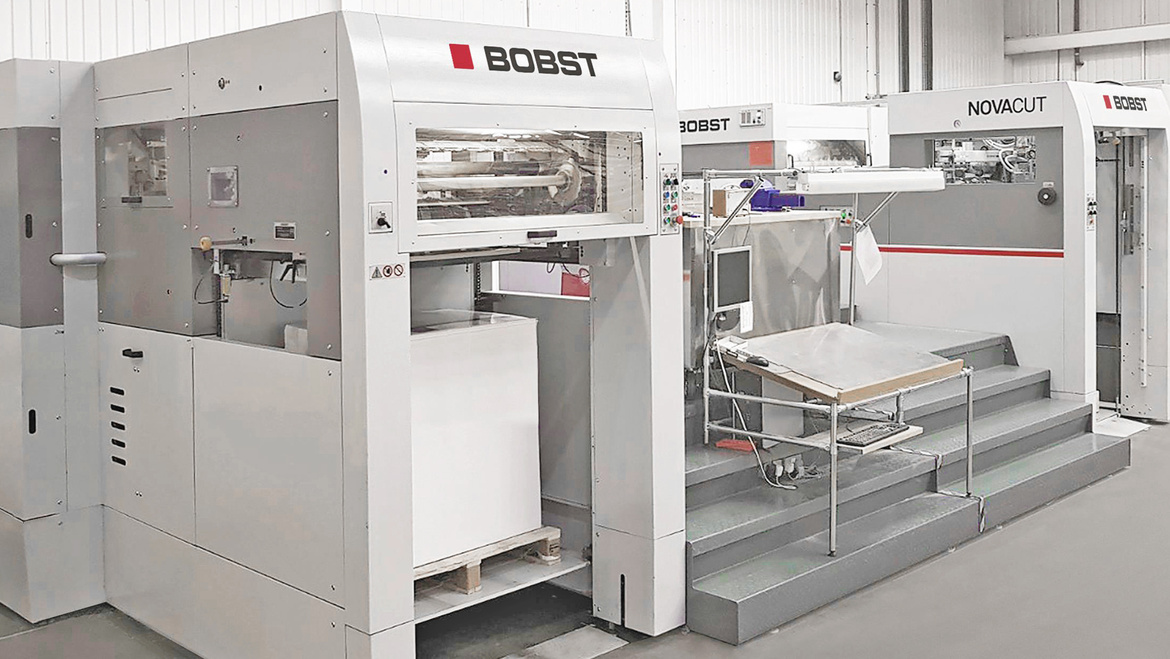 Specialist carton manufacturer, Kennedy Smith Press Ltd., has invested in not one, but two, new state-of-the-art die-cutters from BOBST in a unique side-by-side installation to increase capacity and drive efficiency at its Scotland site.
The NOVACUT 106 E Autoplaten® die-cutter offers high precision cutting and minimises the need for manual intervention, driving efficiency along the processing line and ensuring consistent quality to optimise the return on investment.
This latest investment means Kennedy Smith are now a full BOBST house, having first invested in BOBST four years ago, with the EXPERTFOLD and VISIONFOLD folding and gluing machines now used exclusively throughout their Irvine, North Ayreshire site. The company serves the packaging and printing requirements of various industries including pharmaceuticals and food and is the largest independent solid board carton manufacturer in Scotland.
Michiel Molenaar, Director at Kennedy Smith, said: "This unique dual NOVACUT installation will allow us to push the boundaries of what is possible for our customers. Our running speeds have increased significantly, whilst maintaining the overall quality of our products.
"With this investment we are able to continue our ongoing programme of growth whilst maintaining the fast turnaround speeds our customers expect of us. Brands and retailers require packaging that engages and responds to consumer demands, often at short notice, so there is a tremendous need for speed.
"The innovative side-by-side installation provides us with a unique solution that allows our capacity, and therefore production speed, to increase within the footprint of the previous single machine. As the two die-cutters share a platform, the layout also helps to foster a culture of teamwork amongst our operators, as they can work closely together and support each other. We have a fantastic relationship with BOBST, and their willingness to deal with any issue that may arise and find the right solution for us makes any issue surmountable."
Able to process 8,000 sheets per hour each, the die-cutters feature a range of unique BOBST capabilities that have been incorporated to optimise machine up-time whilst delivering increased net output and highly accurate results.
Lee Alton, Area Sales Manager, Business Unit Sheet Fed, Bobst UK & Ireland Ltd, said: "This is a really exciting step for both BOBST and Kennedy Smith, as the distinctive side-by-side installation is believed to be the first of its kind in the UK.
"We work closely with our customers to ensure they have the right machines for their business and see a great return on their investment. We are very pleased that this novel installation is already having a positive impact."
Founded in 1997 to provide for the packaging and printing requirements of Bioforce, the European market leader in herbal remedies, Kennedy Smith now supplies many well-known high street retailers from its purpose-built factory and is one of the fastest growing food carton manufacturers in the UK.
www.bobst.com
comments